30 Aug 2023
Related Midwest Invests in Sustainable Future through Adaptive Reuse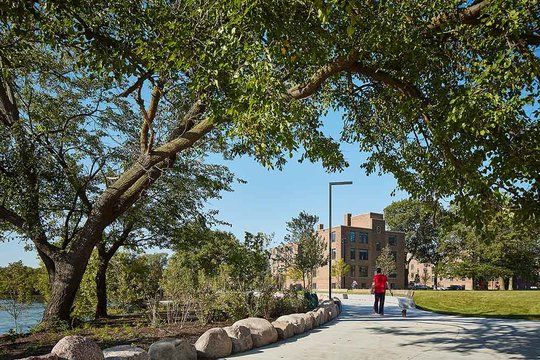 The theme of Earth Day this year is "Investing in our Planet"—a recognition of all that we can do together to protect and care for the world that we all call home. With the built environment contributing 40% of greenhouse gas emissions worldwide, the real estate and construction industries have a responsibility to invest in our planet by building more sustainably. Fortunately, a number of recent developments in our industry—from eco-friendly mass timber to better glass facades—are changing how we think about new construction.
But there's also an opportunity to do our work more efficiently and conserve natural resources through adaptive reuse—that is, reimagining existing structures—to further sustainability goals. Related Midwest was recently recognized as a leader in preservation when Sarah Wick, Senior Vice President, Affordable Housing, was named as a 2023 Landmarks Illinois Influencer. Sarah was honored for innovative practices in adaptive reuse—one of the most environmentally friendly means of development—including her work on Lathrop.
With Lathrop, Related Midwest preserved and rehabbed the historic Lathrop Homes community along Chicago's riverfront—creating a mixed-income community. The restoration maintained the significant features of its 1938 design and construction while incorporating modern finishes, high-efficiency mechanical systems and energy-saving windows.
Lathrop sits on 34 acres among one of Chicago's natural jewels, the Chicago River, but the riverfront in this part of the city wasn't previously welcoming for residents. Lathrop Community Partners enlisted Michael Van Valkenburgh Associates—-the firm behind Maggie Daley Park, The 606 and Bennett Park—to reimagine the riverfront with a pedestrian riverwalk, bridge, boat launch, a playlot and a riverfront dog park. The rehabilitation work also involved conserving the area's outdoor space for residents and neighbors, including revitalizing the "Great Lawn" originally envisioned by landscape architect Jens Jensen. Now it's a place where residents can play games, lounge in the sun and gather as a community.
Lathrop's sustainability accomplishments include receiving LEED Neighborhood Development Gold certification and LEED Silver certification for Lathrop's buildings.
Related will always work to build new construction sustainably. In fact, we developed the first LEED Certified high rise in the Midwest in 2004: 340 On The Park located in Chicago. But there's just as much value in preserving and adapting the buildings that already exist. We're proud of our work in the area of adaptive reuse and look forward to the continuous innovation—and conservation—it makes possible.
__________________________________________________________________________________________________________________________
Read more here