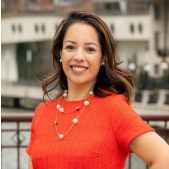 Jacqueline Gomez
Executive Director
,
HACIA
Jacqueline (Jackie) Gomez is the Executive Director of the Hispanic American Construction Industry Association (HACIA) a construction advocacy and membership organization working to ensure the equitable participation of construction industry professionals. In this role, Jackie and her team advocate tirelessly for transformative and impactful policy and legislation that breaks down barriers of entry into the construction industry, promote the growth of the organization's members and provide free small business and workforce development training to diversify the future of the construction industry.
A thought leader on diversity and inclusion in the trades with decades of experience, Jackie stands committed to creating a more diverse construction community - one that is reflective of the communities we live in and serve. Under Jackie's leadership, HACIA is a recognized champion and industry leader for the growing and thriving minority construction community.
Jackie brings over fifteen years of experience within the business development and supplier diversity industry. She has experience in all levels of government including local, state and federal sectors and specializes in contract compliance, diverse business certification, small business development programs and access to capital for small businesses. In her work, she has assisted hundreds of small businesses meet their business objectives in various areas including financing, marketing, and business development.
Prior to joining HACIA, Jackie served as the Director of Supplier and Workforce Diversity for the Obama Foundation, where she was responsible for managing their diversity, equity and inclusion programming and ensuring the Foundation achieved transformative initiatives related to the construction of the Obama Presidential Center. Before joining the Obama Foundation, Jackie served as the Director of Cook County's Office of Contract Compliance, where she was responsible for the administration, implementation and development of the County's M/WBE Program and oversaw its M/W/VBE certification process and ensured the equitable participation on County contracts.
As Program Director, during her early years at HACIA, Jackie was responsible for outreach efforts covering the Great Lakes Region on behalf of the U.S. Department of Transportation. She provided technical assistance and business development training to over 1,000 small businesses. Prior to this position, she worked for the Metropolitan Pier and Exposition Authority (MPEA) in the Business and Workforce Diversity Department.
Jackie holds a Bachelor of Science degree in Finance from the University of Illinois-Chicago and a master's in business administration from National Louis University.
Jackie currently serves as a board member for the Illinois State Toll Highway Authority and as a Commissioner for the City of Chicago's Department of Community Development. She has served on a number of volunteer boards and committees such as on the UCAN; a Member of the Finance Committee for El Valor; and Certification Committee Member for the Women's Business Development Center. Jackie, her husband and two children reside in Chicago's Irving Park community.