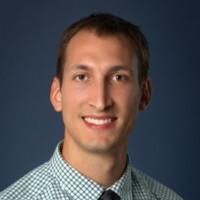 Dylan Beach
Sustainability Specialist
,
GOJO Industries
Dylan Beach is a Sustainability Specialist at GOJO Industries, the maker of PURELL instant hand sanitizer. He acts as an internal consultant to embed sustainability throughout the Enterprise, with an eye towards achieving GOJO's 2020 Sustainable Value Goals and Strategies.
Prior to GOJO, Dylan was a Sustainability Project Manager at Avery Dennison, a publicly traded Fortune 500 company. He worked on several global, cross-functional projects including measuring supplier sustainability performance and sustainable procurement strategies.
Dylan also worked on wildlife management and climate change issues in Kenya, Alaska, and the Yukon Territory. He enjoys backpacking and camping with his wife and dog. He has camped on 4 continents.
He holds an MBA from the Weatherhead School of Management at Case Western Reserve University, a Master of Environment and Sustainability from the University of Saskatchewan, and a Bachelor's degree in biology from Denison University.