06 Oct 2023
Meet Pinnacle Infotech, the Largest BIM Company, at Chicago Build Expo Booth 422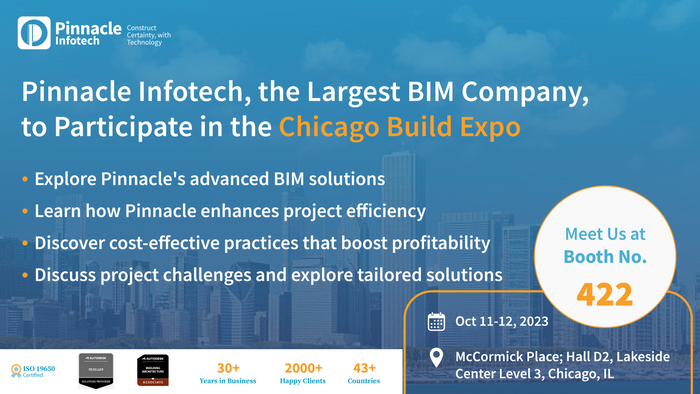 Pinnacle Infotech, the Largest BIM Company at the Chicago Build Expo
Pinnacle Infotech, the largest BIM company in the world, is exhibiting at the Chicago Build Expo, taking place on October 11th & 12th, 2023. As a prominent participant, Pinnacle Infotech is set to showcase its innovative digital construction solutions at Booth 422.
Visitors to the booth can learn about our cutting-edge BIM technology, which encompasses 3D modeling, clash detection, quantity takeoff, cost estimation, construction documentation, laser scanning, point cloud to BIM, and construction automation. Pinnacle Infotech is also dedicated to showcasing how its BIM solutions can help construction professionals streamline workflow, reduce costs, and improve project outcomes.
Pinnacle Infotech invites construction professionals to engage in insightful discussions with their team of accomplished experts during the event. Discover how their cutting-edge BIM solutions can effectively empower industry practitioners to surpass their objectives and drive unprecedented success. The team of experts is available to answer any questions and provide demos of innovative solutions.
About Pinnacle Infotech:
Pinnacle Infotech is a leading provider of digital construction solutions, including BIM, VDC, laser scanning, point cloud to BIM, and construction automation. With a remarkable track record spanning over 30 years and a global presence in more than 43 countries, our company has consistently enabled clients to gain invaluable design insights, achieve higher returns on investment, eliminate rework, and reduce material waste. We boast a highly skilled team of over 2600 engineers and architects who have completed over 15,000 projects worldwide, encompassing diverse sectors, including healthcare, education, commercial, and residential construction.