27 Sep 2023
Introducing Next-Generation Tenant Storage Lockers: Folding Guard Redefines Storage Solutions at Chicago BUILD 2023 Expo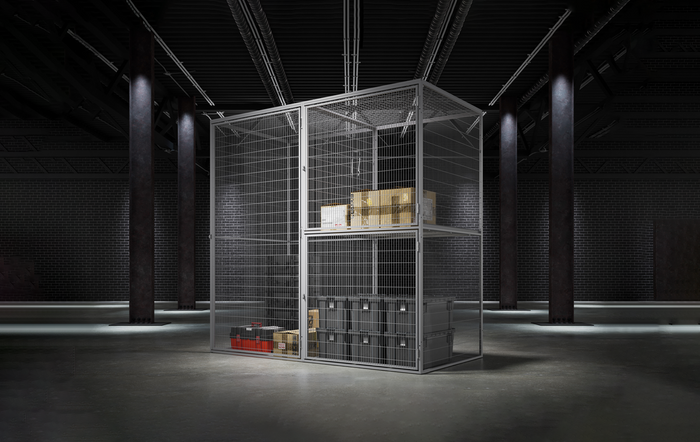 Folding Guard is proud to unveil its latest innovation in storage solution through a fresh, ground-up design. The new product features easy to assemble modular panels and shelves, making them well-suited for a wide variety of operational needs. The Tenant Storage lockers are now available and will be debuting at the esteemed Chicago BUILD 2023 Expo, showcasing a new pinnacle in dependable storage solutions.
The upgraded lockers are built with modularity and efficiency in mind. The locker panels are made using a rigid tube frame construction, with unique profile edges on one face to facilitate positive projection welds, leaving no sharp edges at each wire location. Affixed to the tube frame is the wire mesh with a 7/8" x 4" grid pattern. Notably, this fortified wire mesh profile is the same type used in machine guarding applications.

Stor-More® product lines are available in single and double tiers showcasing a gray powder finish. The new modular lockers have been designed for effortless assembly, incorporating unique hexagonal lasered holes in the frame members that also provides tamper resistance. Through meticulous engineering, the act of joining the panels has been streamlined, requiring nothing more than a basic Allen wrench for final tightening. Additionally, shelves can now easily be added in the field without requiring a custom solution.

Visit us at the Chicago BUILD 2023 Expo, booth 316, to experience firsthand the evolution of storage solutions with Folding Guard's transformative new Tenant Storage lockers. Discover the synergy of functional design and efficient assembly, redefining the way storage systems meet your operational requirements.

For additional information contact marketing@foldingguard.com.
Folding Guard® is a manufacturer of welded & woven wire mesh safety, security, and storage products. Our products include wire partitions, machine perimeter guards, storage lockers, military lockers, loss prevention cabinets, pallet rack security systems & gas cylinder safety cabinets. We have a wide range of capabilities including design, configuration, fabrication, & powder coating and our superior products fit into a variety of applications. Whether you're looking for an industrial, commercial, government, military or consumer product, Folding Guard® can engineer the right solution for you!