BuilderSuccess Product Info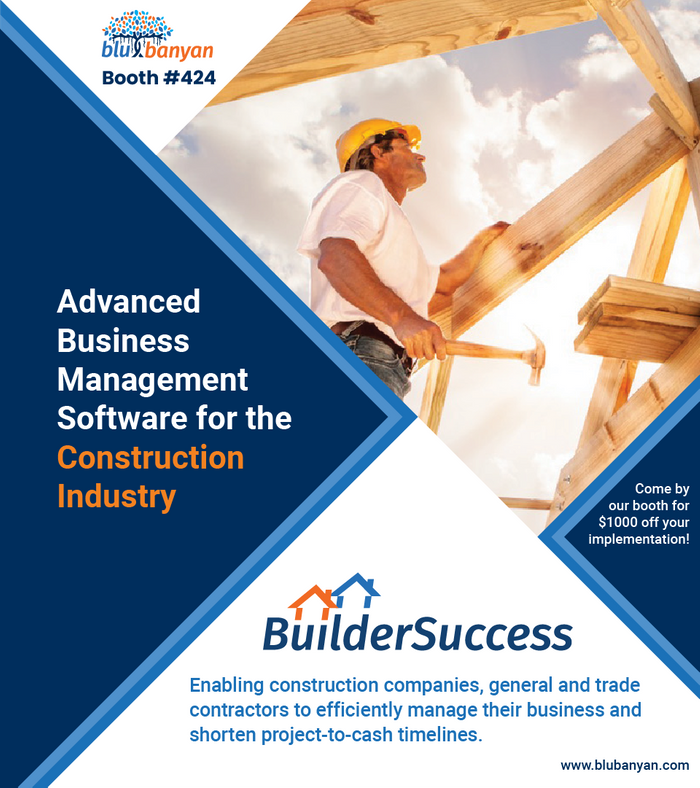 Why is BuilderSuccess important for building and trade contractors?
There are many reasons, perhaps the most important reason is that it helps to keep track of all aspects of a building project, from start to finish. This means builders can avoid potential problems and delays and ensure that their projects are completed on time and within budget.
BuilderSuccess helps to streamline communication between all parties invoiced in a building project. This includes the builder, the architect, the engineers, the suppliers, the sub-contractors, and the construction workers. By having a centralized system where everyone can access the same information, it reduces the chances of miscommunication and costly mistakes being made.
Reducing soft costs for a construction business is key to increasing project profitability. Opportunities for improvement include:
Managing incompatible software programs
Data entry errors
Inventory mismanagement
Procurement issues
Inefficient labor utilization
Changing customer acquisition costs
Missed milestone payments
Unexpected project costs
Delayed or erroneous invoicing
Inconsistent or late reconciliations
As companies grow, they typically cobble together a mix of software tools to address their
needs, often resulting in a 'hairball' of incompatible application that don't "talk" to each other.
The Solution: BuilderSuccess
Modules:
Project Management: Our project management software is designed to help you manage your construction projects from start to finish. We give you the tools you need to control your budget, track your progress and ensure that your project is completed on time and within budget.
Sales & CRM: From sending automated emails and notifications to updating customer records, our CRM & Sales Automation features will help you streamline your operations and improve efficiency.
Document Management: BuilderSuccess is integrated with industry leading file storage solutions, enabling upload and linking of photos, documents, and files with full document version control. Advanced DocuSign integration enables automated multiple party signoffs at multiple milestones.
Asset Management: Keep all relevant information regarding your customers' assets in order to create detailed reporting showing all necessary information such as warranty details, lot/serial numbers and service and maintenance history.
Accounting & Finance: Get a clear picture of your business' financial health and make informed decisions to improve your bottom line. With the right accounting and finance tools in place, you can take your construction projects to the next level.
ERP & Inventory: BuilderSuccess ERP (Enterprise Resource Planning) software is designed to help businesses manage their resources more efficiently. BuilderSuccess ERP software provides a centralized database for all your resource information.
Team Collaboration: When it comes to team collaboration, on-platform chat is an essential tool. It allows team members to communicate quickly and easily, sharing ideas and working together seamlessly.
Service Management: The service management functionality in BuilderSuccess enables users to automate workflows that save time and improve accuracy. From the initial service request, through to defect resolution, you will be able to track and manage all tasks and activities.
3rd Party Integrations: BuilderSuccess can be integrated to a wide range of construction industry applications to streamline the flow of data, documents, and information in your business.
BUILT FOR INDUSTRY
Residential Construction: An integrated software platform to help home builders to manage sales, projects, accounting, defects and maintenance.
Residential Developers: Supporting residential developers with the tools needed to manage estate planning, lot management and parent child projects.
Commercial Construction: Helping commercial construction companies to plan, manage and administer every stage of complex commercial builds.
General & Trade Contractors: Supporting general and trade contractors with the tools needed to manage sales, projects, accounting, customer service and maintenance.
HELPING YOU SCALE & GROW
BuilderSuccess is a scalable and flexible solution. As your business changes and grows, you can be confident that BuilderSuccess will continue to transform to meet the needs of your construction organization.
Blu Banyan enables the acceleration of digital transformation across the entire organization by automating and optimizing business processes and integrating business applications to deliver enhanced efficiency and scalability for businesses.
Contact us to learn more!
sales@blubanyan.com
www.blubanyan.com