01 Sep 2022
Zoning Appeal Approved for Residential Development at 1010 W Madison Street in West Loop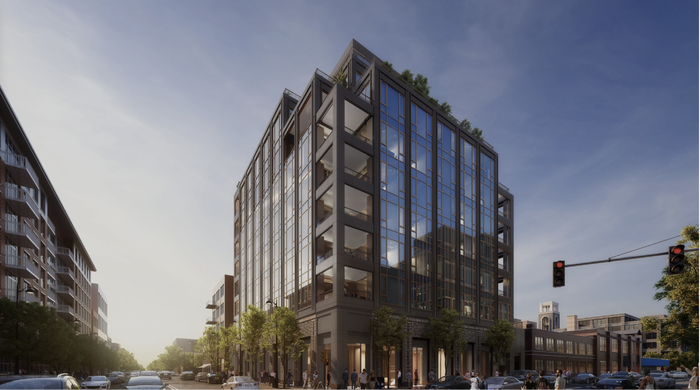 The Chicago Zoning Board of Approvals has approved a new residential development at 1010 W Madison Street in the West Loop. Located just north of the intersection with N Morgan Street, the project going by the name of Momad will replace a vacant parking lot and bring new for-sale condominiums to the growing area. Developer Fulton Street Companies is behind the project along with local architecture firm SCB who is working on the design, both companies with an extensive history in premium Chicago projects.
Since we last covered the project late 2021 when it was announced, not much had varied in its design. Rising 10 stories tall near Mary Bartelme Park, the project hopes to cash in on the influx of home buyers with high budgets in the West Loop with other developments like Embry rising nearby. The approval will allow for residential use on the building's ground floor, a non-common use on the street which normally has commercial spaces lining it, clearing a key aspect of the private design.
Spread across the floors will be 25 residential units consisting of one-, two-, three-, and four-bedroom layouts ranging from 2,000 to 5,000 square feet. Residents willing to pay the $2 million to $6 million price tag will have access to private balconies with private outdoor terraces for the residences on the upper floors. Clad in a mix of dark masonry on the lower floors and decorative panels on the upper floors, the residences will also feature floor-to-ceiling Chicago-style windows with a large central panel and two operable sides.
While not the most transit-rich area, future residents will be able to ride CTA bus service for Route 20 on the corner of the building and both CTA Green and Pink Lines at the Morgan station via a five-minute walk. However the building is not aimed at commuters and will boast 42 vehicle parking spaces entered through a new curb cut on N Morgan Street on the first and second floor, this will allow for some condos to have more than one parking space on site.
Fulton Street Companies purchased the lot in 2020 and has been working towards an eventual groundbreaking since. The condo market in the West Loop has been growing, with some of the highest sales going for around $5 million as of late, thus this will test how much the market can handle. At the moment the developer has not applied for construction permits although they originally planned to break ground earlier this year, an updated timeline has also not been announced.
Read more on Chicago YIMBY
Attend Chicago Build Expo, the largest construction, design and real estate show for the Midwest. Gain access to 12 conference tracks and AIA CES approved workshops, check out 250+ exhibitors, learn from 350+ high-profile speakers and connect with 20,000+ built environment professionals.