31 Aug 2022
Zba Approves Variance for Momad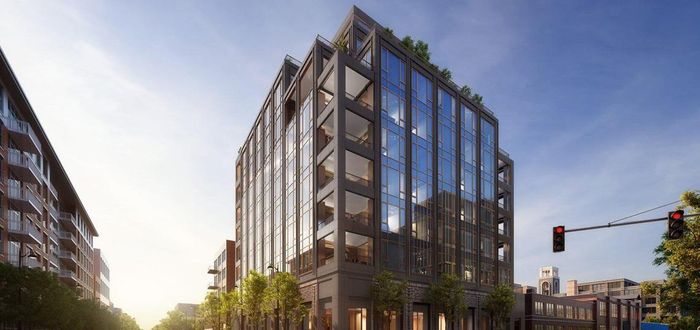 The Zoning Board of Appeals has approved a variance for Momad, a condo development at 1010 W. Madison. Planned by Fulton Street Companies, the new midrise building is planned to replace an existing surface parking lot at the northwest corner of W. Madison St and N. Morgan St.
With SCB in charge of the design, the residential midrise will stand 10 stories tall. With just 25 condominiums, units will range in size from one-beds measuring 2,350 square feet, to four-bedroom homes measuring 5,000 square feet. Homes are expected to sell for between just under $2 million and almost $6 million.
The building design rises from its site with balconies at the corners for each residence. As the massing rises, the floors set back from the corners, creating tiered floors and increased rooftop space for the penthouse homes. Parking for 42 cars will be located on the first and second floors of the building.
With approval from the ZBA, the variance will provide the project with a special use to allow residential accessory uses on the ground floor.
According to a Crain's article from this past November, the developer had planned to break ground in early 2022 which has not occurred. An updated timeline for the project has not been announced, however permits have not been filed for construction.
Read more on URBANIZE Chicago
Attend Chicago Build Expo, the largest construction, design and real estate show for the Midwest. Gain access to 12 conference tracks and AIA CES approved workshops, check out 250+ exhibitors, learn from 350+ high-profile speakers and connect with 20,000+ built environment professionals.