26 Sep 2023
YMCA Announced As Anchor For Assemble Chicago In The Loop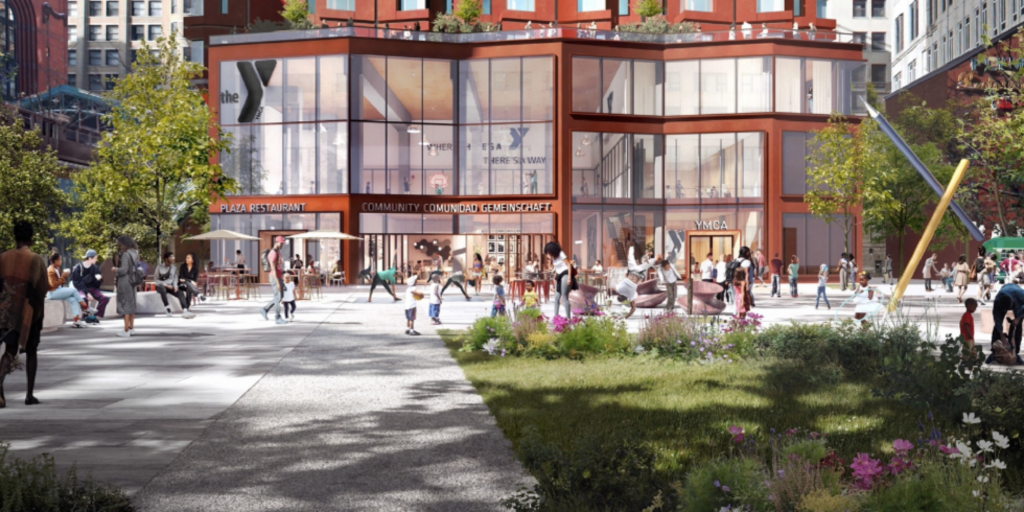 A new YMCA has been announced as the anchor tenant for the mixed-use development at 331 S Plymouth Court in The Loop. Located on the intersection with W Van Buren Street directly across from the Harold Washington Library, the project was originally announced in 2021. Dubbed Assemble Chicago, it is being developed by The Community Builders with Studio Gang, DesignBridge, and JAQ working on its design.
The team was chosen from a batch of proposals submitted for a design contest led by the Department of Planning and Development as a part of the C40 Reinventing Cities initiative. The competition was aimed at revitalizing a quieter end of the The Loop, while making it accessible to citizens of all incomes. Thus the new project would replace an existing parking structure on the western edge of Pritzker Park as well as a small portion of the park itself.
Rising 20-stories in height with a serrated front facing State Street, the base of the project will be a large three-story active space originally set to include a monumental staircase. However the YMCA announcement included a revised rendering showing the stairs being removed, instead the updated angled facade will incorporate additional space for the fitness club inside. The project would also include $2 million to improve Pritzker Park itself.
Find out more at CHICAGO YIMBY