20 Jul 2022
Wrigley Field Sportsbook Addition Tops Out in Lake View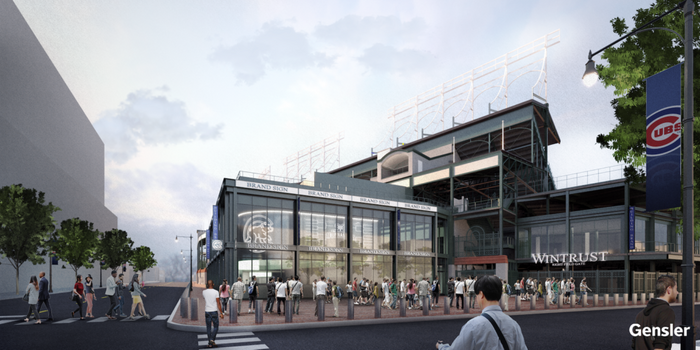 Structural steel has reached its full height for a three-story addition to Wrigley Field in Lake View, having been co-planned by the Chicago Cubs and Marquee Development. Connected to the original stadium, this new 22,000-square-foot enclosure at 1012 W Addison Street will house a Draftkings sportsbook betting venue along with multiple dining options, replacing the former Captain Morgan Club (later the Fantasy Draftkings Sports Zone) at the southeast corner of the stadium block. The project comes at the heels of City Council's recent reversal of its sports betting ban, thereby greenlighting such operations at Chicago's five professional stadiums.
Designed by Gensler, the structure will augment the stadium's aesthetic and use of steel beams, while providing its own modern frontage with massive floor-to-ceiling windows. The third level will also be set back to accommodate a rooftop deck for lounging and dining.
Closest transit includes bus service for Route 152 and the Red Line at Addison Station both within a one-minute walk east. Additionally, those looking to access the stadium by bus will also find Route 22 service at Clark & Addison, less than a two-minute walk west.
Since the last article, the $9 million construction has received all remaining permits required for its completion. Pepper Construction is serving as the general contractor, with a target completion date before the end of the year.
Read more on Chicago YIMBY
Chicago Build is the leading construction show for Chicago and the Midwest region. Gain access to 9 specialized summits, 250+ exhibitors, 300+ speakers and connect with 20,000+ registered visitors.