30 Apr 2019
Vista Tower tops off at 1,191 feet to claim its spot as Chicago's third tallest building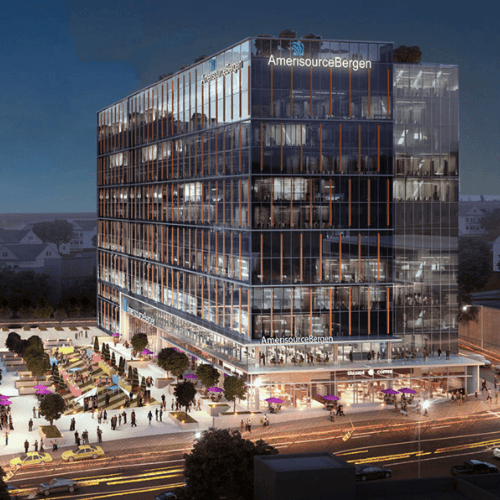 Vista Tower, the newest and most noticeable addition to Chicago's famous skyline, reached a notable construction milestone on Friday when workers installed the final structural beam atop the 101-story skyscraper's crown.
Soaring 1,191 feet above Wacker Drive, Vista is now Chicago's third tallest building, eclipsed only the 1,453-foot-tall Willis (formerly Sears) Tower and the 1,388-foot Trump International Hotel and Tower, which has a lower roof and achieves its final height with help from a decorative spire. Vista Tower also holds the distinction of being the nation's tallest project under construction outside of New York.

"The topping out of Vista Tower marks a momentous occasion, not just in our construction timeline, but also in the impact that Vista Tower has on the Chicago skyline," said David Carlins, president of Magellan Development Group, in a statement. The milestone comes roughly two and a half years after the $1 billion project broke ground in late 2016.
In addition to its already impressive height, Lakeshore East tower features an eye-catching design from Chicago-based architect Jeanne Gang. The tower is essentially made up of three stacks of alternating frustums—or pyramids with their lopped cuts off—and a distinctive facade clad in six different shades of glass.
The uppermost segment of the supertall tower contains unoccupied "blow through" floor to prevent the structure from swaying uncomfortably in the wind.
When completed in the spring of 2020, the project will deliver 192 high-end hotel rooms and 396 luxury condos. The latter figure has decreased from the 410 residences originally announced due to some buyers combining units, reported the Chicago Tribune.
Vista's time as the city's third-tallest building, however, may be short-lived. Just across the river, developers have proposed a slender 1,422-foot tower to replace the parking lot east of Tribune Tower. That project has yet to be approved by City Hall.

Source: Curbed Chicago
---
Chicago Build is the leading construction show for Chicago and the Midwest. Gain access to 8 specialized summits, 200+ exhibitors, 200+ speakers and connect with 10,000+ registered visitors.