04 Jun 2019
View Mies' McCormick House in Chicago Through Cubes of Color and Light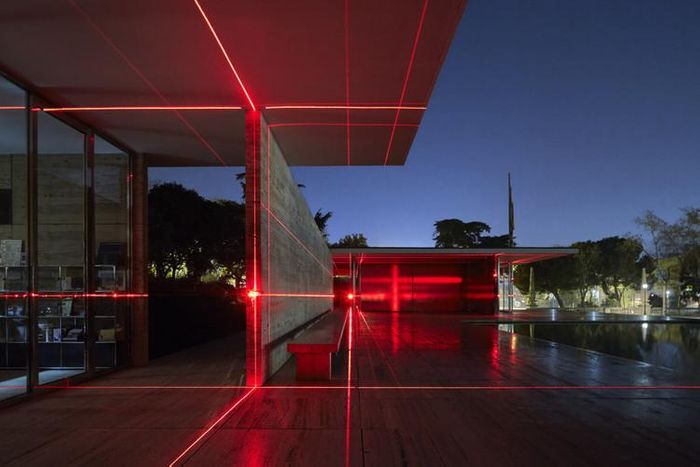 Luftwerk's year-long exploration of architecture by Mies Van Der Rohe began with a geometric grid of red lazers, lighting up the Barcelona Pavilion. Later this year, their homage to mies will end with a final exhibition at the Farnsworth House. But before that, from May 11th to August 25th, Luftwerk and their collaborator, Iker Gil, will feature an exhibit of four installations at the McCormick House, which is adjacent to (and overseen by) the Elmhurst Art Museum in Chicago.
Amid other public talks and programs happening inside the McCormick House this summer, four installations by Luftwerk will accentuate the design language of Mies Van Der Rohe. The dimension of color (pictured above and below) sees 60 acrylic squares of 10 different colors floating in an open room. rather than altering the tint of the surrounding windows, Luftwerk suspends them inside, as a vehicle to talk about the design language of the home from different perspectives.
One point perspective study no 1 mesmerizes viewers with a wall of changing colors which bounce off glistening hardwood flooring. 'this piece plays on the simplicity and complexity of colors,' says Luftwerk. 'It uses primary and secondary yellow, orange, blue, and green hues. it is the color-changing light that changes your perception of the actual colors to reveal the complex relationship we have with color. The one-point perspective is a nod to mies and his use of one-point perspective as a classical foundation for architecture. It represents our overall interest and focus on the power of light and color to shift space and alter perceptions.'
Together, these four installations create an exhibition that Luftwerk and their collaborator Iker Gil call, 'parallel perspectives.' To attend the exhibition — which comes free with the cost of general admission, or sign up for any of the other programs happening inside of the McCormick House this summer, visit the Elmhurst Art Museum's official.
Source: Design Boom

Geometry of Light. Image © Kate Joyce
---
Chicago Build is the leading construction show for Chicago and the Midwest. Gain access to 8 specialized summits, 200+ exhibitors, 200+ speakers and connect with 10,000+ registered visitors.