12 Jul 2022
Vertical Construction Begins on 5-Story Health Clinic in Chicago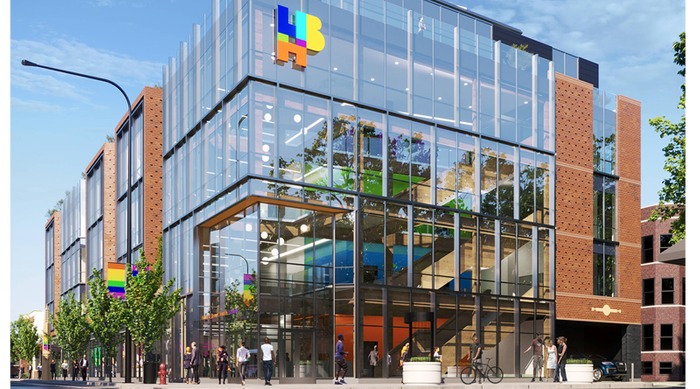 Chicago-based McHugh Construction announces it has started vertical construction on a new five-story healthcare facility and medical office at 3501 N. Halsted St. for Howard Brown Health, the Midwest's largest LGBTQ healthcare organization, after breaking ground in late March in the city's Lakeview neighborhood.
The 91,000-square-foot building, which will replace a Howard Brown clinic at 3245 N. Halsted St., will include first-floor retail and a mix of clinical and administrative space, as well as underground parking and a rooftop terrace for events and functions. Construction is on track for completion in 2023.
"This is a tight site, with the footprint of the building on the edge of an alley and numerous power lines overhead, so we're drawing on our deep experience working in Chicago's city neighborhoods and carefully coordinating logistics to ensure disruption to neighbors and adjacent businesses is kept to a minimum," said Ken Maiberger, superintendent. "There's already tremendous anticipation for this project given the enhancements and expansion it will bring to Howard Brown's services in the area, and now that construction is visibly moving forward – and up – we're enjoying the excitement and goodwill of the community as work progresses."
McHugh is the contractor for the new facility, which sits on a site previously occupied by a single-story commercial property. With initial work including sheeting and underpinning complete and the tower crane installed, McHugh is now building the concrete foundation and walls for the basement and starting the concrete building frame.
Designed by Chicago-based architect Eckenhoff Saunders, the building's exterior will feature a glass curtain wall interspersed with brickwork in a variety of shades, while a setback on the top level accommodates the rooftop terrace.
According to Howard Brown, the new flagship center will double its patient capacity in the neighborhood and will offer expanded medical care and social services, including the first Howard Brown dental clinic on the North Side.
The project is being developed by Howard Brown Health in partnership with Inland National Development Company. McHugh Concrete, a sister company of McHugh Construction, is the concrete subcontractor on the project.
Read more on HC+O News
Chicago Build is the leading construction show for Chicago and the Midwest region. Gain access to 9 specialized summits, 250+ exhibitors, 300+ speakers and connect with 20,000+ registered visitors.