17 Jul 2022
Uptown Development at 640 W Irving Park Road Secures More Approvals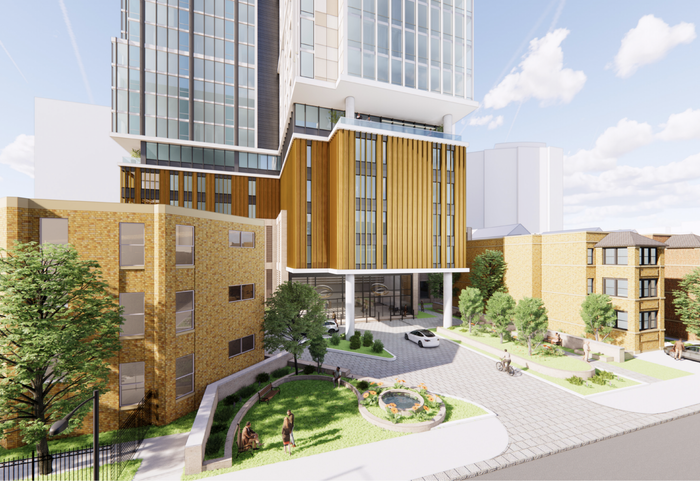 The Permit Review Committee has approved plans to convert the former Immaculata High School at 640 W Irving Park Road in Uptown for residential use. As previously reported, the redevelopment efforts are led by KGiles LLC and CA Ventures. Local firms Perkins Eastman and Level Architecture are assisting with the design of the mid-rise.
The project will yield a 22-story senior living high-rise with 192 units to be built on the American Islamic College's existing parking lot. The existing school building was designated a city landmark in 1983 and will be converted into an additional 245 apartments. The landmark designation encompasses all parts of the school and additions but did not specify the scope of protection. It has been determined that exterior elevations, as well as the central lobby's cast iron stair and two-story auditorium, are the significant features to be protected from demolition or alteration.
Level Architecture will oversee the conversion of existing space, including the school which will house 245 typical apartments, mostly comprised of studios and one-bedrooms and five total two-bedroom configurations. Twenty percent of the overall unit count, or 49 units, will be designated as affordable.
In accordance with landmarking determinations, the main lobby stair will remain and will be enclosed inside a new vestibule to adhere to fire codes. A rooftop deck will be added and a large setback from the street will be prioritized for privacy. A new elevator and stairs will serve the new roof deck.
As is to be expected, windows will need to be installed and replaced to match the building's originals. The condition of the windows will need to be accessed for repairs.
The 22-story senior living tower will be headed by Perkins Eastman and will contain 108 independent living units, 32 memory care units, 60 assisted living units, and 98 total parking spaces at the building's rear. Of the unit count, 20 units will be offered at affordable rates.
The approval from the Permit Review Committee the $65 million project will next be vetted by the Chicago Plan Commission later this month before seeking final approval from both the Committee on Zoning and the full City Council.
Read more on Chicago YIMBY
Chicago Build is the leading construction show for Chicago and the Midwest region. Gain access to 9 specialized summits, 250+ exhibitors, 300+ speakers and connect with 20,000+ registered visitors.