25 Aug 2022
Updated Renderings Revealed for Two-tower Office Development in West Loop Gate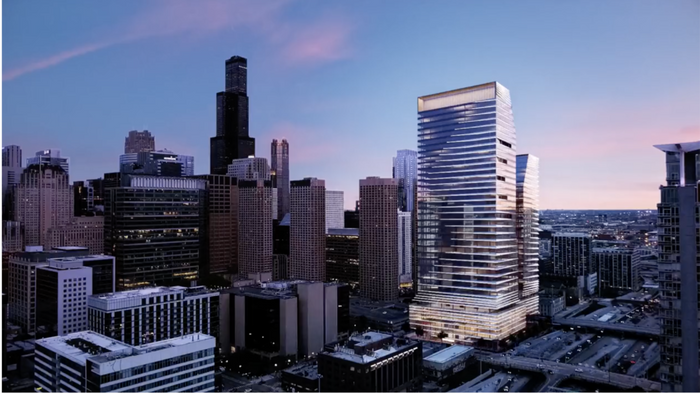 Updated renderings have been revealed for the two-tower office development at 655 W Madison Street in West Loop Gate. Located just east of the Kennedy Expressway/I-90, the project plans to replace a large surface parking lot and joins various other proposals in the immediate area cashing in on their proximity to the Loop and West Loop. Chicago based developer the John Buck Company, who has managed the Willis tower in its past, is teaming up with local architecture firms HOK and JGMA on the design of the structure.
Originally planned to be a single 1.5 million-square-foot tower which would require a large individual anchor tenant to kick off, the updated concept now consists of two towers connected by a large podium with large angular cuts to break the massing. One of the main reasons for the change was the pandemic and its effects on the demand for smaller floor plates, thus the new design allows for smaller anchor tenants and for the total square footage to be realized in separate phases if need be.
Since we last covered the project a handful of changes have been made along with some further details announced. The tallest of the two towers, or the northern structure will rise 39 stories and cap out around 600 feet in height containing 850,000 square feet of space, with the southern tower being slightly lower at 29 stories and containing 650,000 square feet of space. The office floors will predominantly be 30,000 square feet in size with slab-to-slab heights of 14 feet, they will also feature a total of 7,000 square feet of outdoor space on decks made by the exterior wall angling in from the square slabs.
Along with state-of-the-art ventilation systems and other high-tech features, workers will have access to over 55,000 square feet of amenity spaces including an even larger than before conference center. The now larger 22,000-square-foot center will be flex for events as well offering rooms that can hold anywhere from 12 to 300 people with the latest in presentation equipment. There will also be a large 6,000-square-foot multi-story amenity club and lounge in the northern tower, at the moment no more is known about extra spaces in the southern tower.
The five-story podium will hold a 235-vehicle parking garage accessed from a decorative ram integrated into the highway-facing facade of the structure. Capping this will be a one-acre park that will be open during all seasons and provide good views to the east and west. The developers also made it known that the buildings, and their signage or marketing, will be visible by roughly 250,000 people per day being next to a main commuting route. The new renderings also show an opportunity for an illuminated architectural crown.
A new video on the project posted by the John Buck Company can be found here, and it does include a website that is not live yet. The site of 655 W Madison Street is in proximity to both main roads and public transportation are some of the key features they hope make these two structures a success. While a formal timeline has not been revealed, the video shows there is still an intention to carry out their construction as they begin to hunt for an anchor tenant. While there is no need for a zoning approval, the timeline will hinge on when they receive full approval from the city.
Read more on Chicago YIMBY
Attend Chicago Build Expo, the largest construction, design and real estate show for the Midwest. Gain access to 12 conference tracks and AIA CES approved workshops, check out 250+ exhibitors, learn from 350+ high-profile speakers and connect with 20,000+ built environment professionals.