30 Aug 2022
Updated Plans Revealed for Chicago Fire Training Facility in Near West Side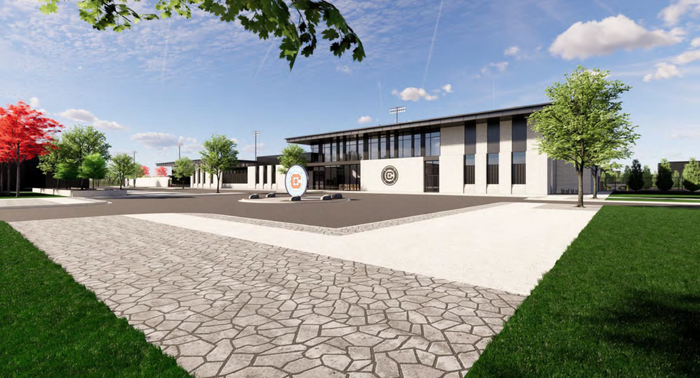 Updated plans have been revealed to the community for a new sporting facility within Addams/Medill Park at 1434 S Loomis Street in the Near West Side. The park which is roughly bound by W Roosevelt Road, S Loomis Street, W 14th Street, and S Ashland Avenue is near the growing Illinois Medical District and has been host to major music festivals in the past. The project is being developed by the Chicago Fire Football Club with Crawford Architects working on its revised design.
Although smaller in scope from its original proposal, the new training facility could potentially employ hundreds within the now two-story sleek steel and concrete structure. Since its announcement, the lot has shed roughly an acre going from 25.5 to 24.2 along with the building shrinking from over 90,000 to 51,600 square feet. It will no longer hold a new headquarters for the team, but will have space for the Fire Youth Academy along with new parking and multiple outdoor fields with night lighting.
Facilities within the building will include a pretty comprehensive fitness center for the team with a gym, lockers, a medical room, and a hydrotherapy room all on the first floor. Upstairs will be the offices for the team along with their supporting spaces and a cafeteria. These will all be surrounded by five full size fields, two covered in hybrid grass and three in synthetic turf of which one will have an inflated dome built over it during the winter months of November to March.
Other aspects of the new plan include a 4,100 square-foot field crew/facilities building, a greenway that cuts through the campus for visitors, and room for a potential new affordable-housing development. This comes from the land's previous use as a major public housing project which was demolished in 2007 where the city planned to build over 2,000 improved units on the site. That has now been narrowed down to 222 on-site with much of the money gained going towards renovating nearby aging homes.
Although the original plans for the team's Belmont-Cragin facility were scrapped due to them feeling their presence would bring more harm than good, many residents didn't meet the Near West Side plan with open arms either. The facility is now expected to cost around $80 million with the team aiming at a rapid timeline hoping to start construction before the end of the year though all city approvals are still needed. If all goes to plan, training could begin at the completed complex by summer 2024.
Read more on Chicago YIMBY
Attend Chicago Build Expo, the largest construction, design and real estate show for the Midwest. Gain access to 12 conference tracks and AIA CES approved workshops, check out 250+ exhibitors, learn from 350+ high-profile speakers and connect with 20,000+ built environment professionals.