20 Aug 2022
Updated Details Revealed for Community Arts Center at 1353 E 72nd Street in Greater Grand Crossing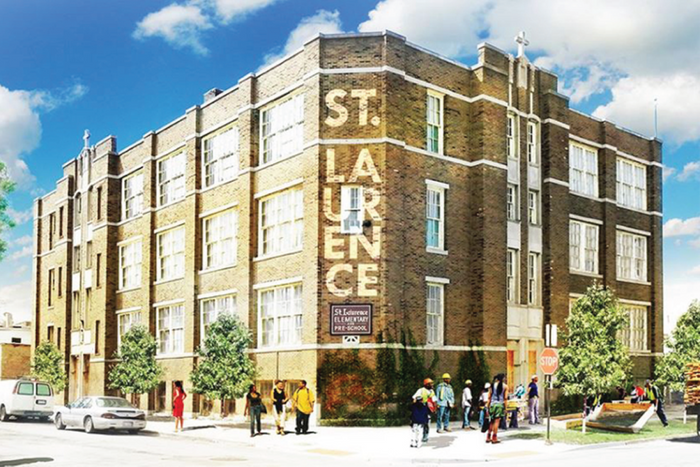 Updated details have been revealed for a community arts center at 1353 E 72nd Street in Greater Grand Crossing. Located just west of the intersection with S Dorchester Avenue, the project will rehabilitate the previously abandoned St. Laurence Catholic School which has sat vacant after past redevelopment plans failed. The creative force behind the new art-focused spaces is the Rebuild Foundation led by Theaster Gates who is well known for his Stony Island Arts Bank project. Woman-owned Muller 2 known for their O'Hare Terminal 5 extension are serving as the architects, while Power & Sons is the general contractor.
The existing 44,500-square-foot structure was built in 1907 in an Art Deco and Prairie-Style predominantly clad in brick with stone detailing. The school served the community along with the adjoining church and parish hall until its closure in 2002, after a 2005 deal with Eden Supportive Living fell through, Cook County sold the building to Gates in 2014 for $451,500. Initial plans for the arts center redevelopment were announced in 2016 with a 2018 completion, but after various delays it finally broke ground in early 2021.
The designs for the structure preserve many of the existing features, materials, and finishes while reconstructing a few pieces of ornamentation that have been destroyed like the crosses above the two-main entries. The existing gym will be the focal point with the plaster and veneer work around the stage and space being restored to become a large art exhibit space, with the rest of the floors becoming an arts incubator. These will eventually hold studios, co-working areas, and classrooms for lessons on financial literacy according to WTTW.
Hoping to inspire the next generation of great artists and makers, the facility will partner with the Prada Group and select creatives to fill the space over time. Future visitors to the site will have bus service access to CTA Route 71 via a five-minute walk, and Route 28 via a nine-minute walk, along with various Metra stations nearby. The estimated cost of repairs in 2014 was nearly $3 million, though the current budget for the build-out is unknown, the center is expected to open its doors by the fall of 2023.
Read more on Chicago YIMBY
Attend Chicago Build Expo, the largest construction, design and real estate show for the Midwest. Gain access to 12 conference tracks and AIA CES approved workshops, check out 250+ exhibitors, learn from 350+ high-profile speakers and connect with 20,000+ built environment professionals.