23 Mar 2022
Update: City Narrows Down Casino Bids To Final Three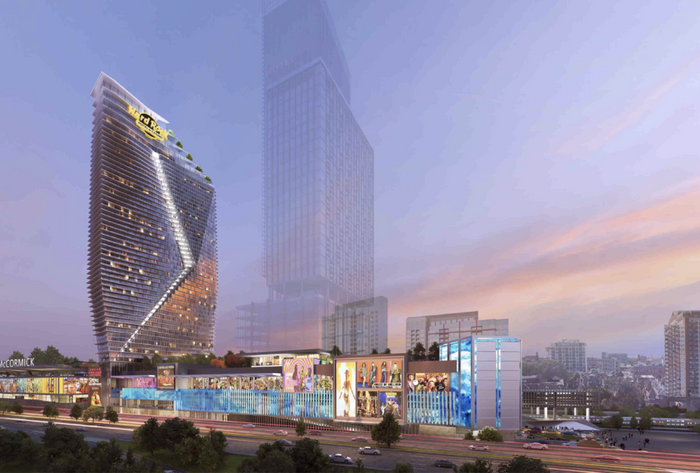 Updated renderings and details have been released for two of the five casino bids hoping to win as the city progresses to select a winner later this year. As plans continue to be flushed out leading up to the decisions, the bidders forge partnerships in hopes of impressing city council. YIMBY provided past updates on all plans in October and November of 2021 and this last February when McCormick Place expressed their concerns with plans using their site. Read more about the three-finalist.
Update: During the day of publishing this article, news broke via Crain's that Mayor Lori Lightfoot has narrowed down the five-bids to the top three finalist, delaying the final decision originally expected anytime, and as early as this March down the road. Gone are the two major bids planning to utilize parts of McCormick Place itself including the Rivers Casino bid for the Lakeside Center and the Bally's bid for the Marshalling Yards, although a report by the city didn't call out the issues brought forward by McCormick Place as reasoning. Further new details will be called out with a bolded 'update' prior.
Hard Rock One Central Bid
Perhaps the biggest update recently is that of Hard Rock's bid. Last month we reported that a website had been created and then taken down for the proposal, and now the website is back up with further details. The $1.7 billion project would partner with the One Central mega-development in its plan to cap the existing rail lines with housing, office, and entertainment, while utilizing McCormick Place as a temporary facility. The updated website can be reached here.
Find out more: Chicago Yimby
Chicago Build is the leading construction show for Chicago and the Midwest region. Gain access to 9 specialized summits, 250+ exhibitors, 300+ speakers and connect with 15,000+ registered visitors.