26 Jul 2022
U of I Purchases Springfield Building for Innovation Center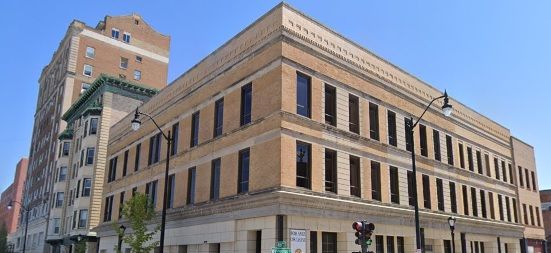 The University of Illinois will purchase an existing building in Springfield for the new home of the UIS Innovation Center.
The three-story, 26,400-sq, ft, building near the Illinois State Capitol will serve central Illinois as part of the University of Illinois System's Illinois Innovation Network (IIN), providing a regional center for technology and research commercialization, business incubation and acceleration, workforce development, and policy research.
The new Innovation Center will be an important addition to the Springfield area and, through IIN, the entire state, U of I System President Tim Killeen said.
"IIN was created to serve as a transformative network of networks, harnessing the brainpower of our state's public universities to collaborate on local and regional issues and create opportunities that benefit Illinoisans from the Ohio River to Rockford and every point in between," he said. "Bringing the UIS Innovation Center to life is a crucial step."
U of I System will buy the property from the Illinois Sheriffs' Association for $950,000, using part of the $15 million appropriated by the state of Illinois for the Springfield hub of IIN.
The building will be renovated, with construction expected to begin in about a year, after current tenant leases expire. The project is expected to be completed in late 2024.
The new Innovation Center will include:
Innovate Springfield, UIS's social innovation and business incubator, which will double its capacity to help develop new businesses and launch a startup accelerator.
Technology labs, maker spaces and experiential labs where entrepreneurs and researchers can develop and test product prototypes.
New workforce and professional education initiatives to support local employers, as well as expanded internship and fellowship programs for several UIS academic programs.
Space for the UIS Center for State Policy and Leadership to collaborate with other policy institutes on research and analytical services related to critical issues such as community health, education and career access, and environmental protection.
Collaborative space for philanthropies, social service agencies, faculty researchers, students and lawmakers to analyze and implement strategies for the advancement of social progress.
Locations for other U of I System offices, including space for President Killeen to work when in Springfield.
IIN is a U of I System initiative to boost Illinois' economy through entrepreneurship, research and workforce development. The Innovation Center is one of 15 IIN hubs across the state.
"By expanding our faculty, the University of Illinois System will be able to better meet the increasing demand for the world-class education we offer and pursue more of the innovative, interdisciplinary research required to create a vibrant state economy," Killeen said.
Enrolment at UIUC increased to a record 56,607 in the Fall of 2021 and UIC enrolment reached 34,199, also an all-time high. Systemwide enrolment was a record 94,750.
Read more on Chicago Construction News
Chicago Build is the leading construction show for Chicago and the Midwest region. Gain access to 9 specialized summits, 250+ exhibitors, 300+ speakers and connect with 20,000+ registered visitors.