17 Aug 2022
Two Historical Buildings Sold in River North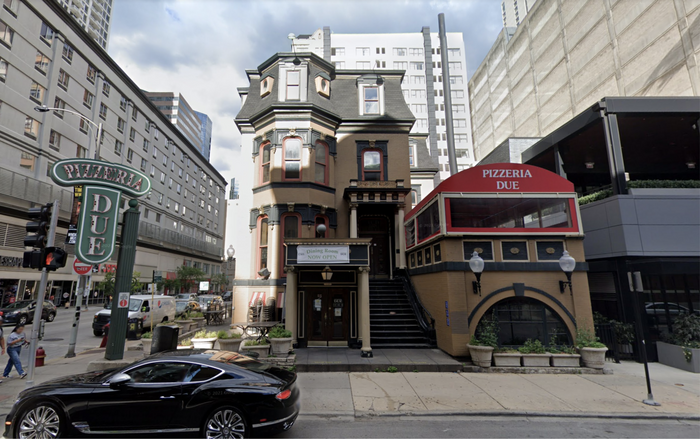 New information has been revealed on the sale of two historical structures at 29 E Ohio Street and 619 N Wabash Avenue in River North. Located on opposite corners of each other and across the street from the upcoming temporary Bally's Casino, the buildings hold Chicago staples of Pizzeria Uno and Due. Previous CEO of the chain Aaron Spencer approved the sale of the buildings to the Texas-based investment firm Newport Global Advisors, who also fully purchased Uno's in 2017.
The four-story, masonry-clad structure at 29 E Ohio Street was originally built in 1892 on its 2,500-square-foot lot as a single family home, long before the restaurant would make its debut in 1943. That's when Texan native Ike Sewell and Ric Riccardo attempted to start a Mexican-restaurant and after a bout of food poisoning decided to pivot towards pizza, however wanting something more substantial the idea for the first deep dish pie was born. It is worth noting that while Uno's is often credited with its creation, deep dish actually appeared on other local menus as far back as 1926 at Rosati's which also continues to serve the pies to this day.
The nearby four-story stucco-clad building at 619 N Wabash Avenue houses the chain's second location known as Pizzeria Due. Built in 1914 as a multi-family home, the lower floor has held the restaurant since 1955 which was their only other location until franchises began top open by the aforementioned Aaron Spencer in 1979. Since then the chain peaked in 2005 before declaring bankruptcy in 2010 according to Crain's. At the heart of the company throughout the years were the two downtown locations which continued to serve typical pies and employed those who went on to start Gino's East and Lou Malnati's.
Both buildings were last sold in 2001 in a similar packaged deal, with 619 N Wabash Avenue failing to sell in 2018 on its own. The new deal which closed early in July was for a total of $6.5 million, split into $2.3 million for the 29 E Ohio Street Uno's and $4.3 million for Due. Current chain CEO Erik Frederick has assured the past owners that the restaurants will continue to operate as they always have but will receive some renovations. The company also owns the property directly behind Due's at 49 E Ontario Street, all of which expect an influx of diners when the new casino opens.
Read more on Chicago YIMBY
Attend Chicago Build Expo, the largest construction, design and real estate show for the Midwest. Gain access to 12 conference tracks and AIA CES approved workshops, check out 250+ exhibitors, learn from 350+ high-profile speakers and connect with 20,000+ built environment professionals.