22 Oct 2022
Two-Building 'HUGO' Development Reaches Full Height in River North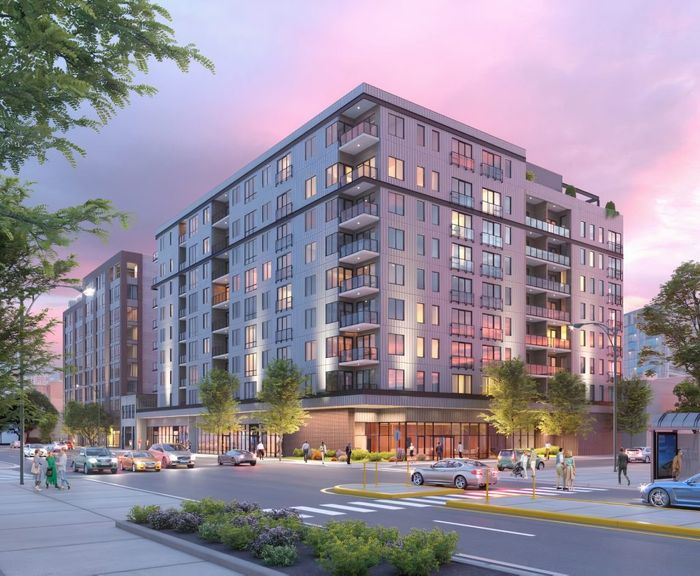 Construction has topped out for HUGO, a two-building mixed-use project by LG Development in River North. Located at 751 N Hudson Avenue and 411 W Chicago Avenue, the pair of nine-story structures will have a combined 230,000 square feet of floor space. HUGO will bring a total of 227 new apartments to the neighborhood as well as 19,000 square feet of ground-floor retail space. The underway buildings will sit close to one another, separated by an existing two-story masonry low rise.
There will be 134 residences within 751 N Hudson Avenue, while the remaining 93 will reside within the slightly smaller 411 W Chicago Avenue. Each will come with their own set of amenities, with 751 N Hudson Avenue offering a fitness center, a penthouse lounge and deck, a dog run, and a co-working area. The building's second floor will also come with a pool deck with cabanas, grilling stations, and fire pits. Meanwhile, 411 W Chicago Avenue building will provide a second-level sundeck with an outdoor kitchen and fire pits.
The architecture firm NORR has designed both buildings' metal and masonry facades to feature dark metal accents and private recessed balconies for select units. The 126-foot-tall development will further accentuate the growing density along Chicago Avenue.
There will be a total of 108 parking spaces across both buildings, six of which will be allocated for surface parking to accommodate the retail component. The closest bus stop can be found for Route 66 at the adjacent intersection of Chicago and Hudson, while additional service for Route 37 is within a two-minute walk east. Residents will also find the Brown and Purple Line service at Chicago station within a five-minute walk east.
Completion of the $100 million project is currently estimated for the third quarter of 2023, with LG Construction serving as the general contractor.
Read more on Chicago YIMBY
Attend Chicago Build Expo, the largest construction, design and real estate show for the Midwest. Gain access to 12 conference tracks and AIA CES approved workshops, check out 250+ exhibitors, learn from 350+ high-profile speakers and connect with 20,000+ built environment professionals.