14 Aug 2022
Twin-building Development "HUGE" Passes Third Floor in River North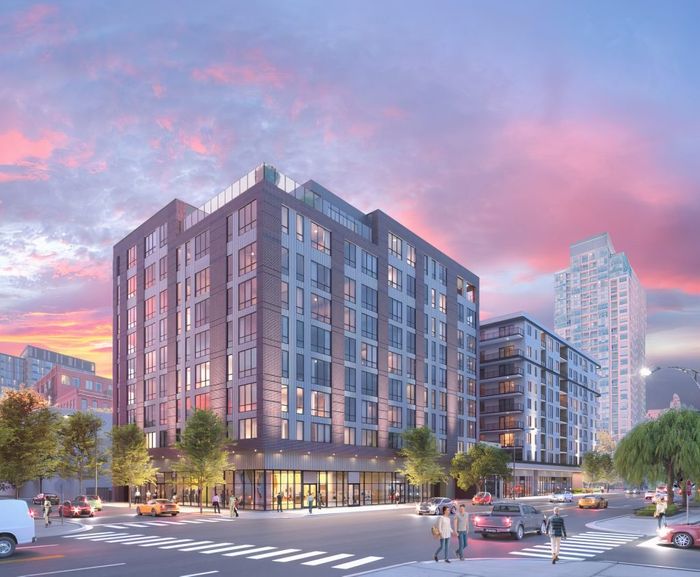 Structural work on HUGO, LG Development's two-building project in River North, has now surpassed the third-floor mark. The development, comprising of two separate buildings at 751 N Hudson Avenue and 411 W Chicago Avenue, is expected to be completed in 2023.
HUGO will bring 227 new apartments to the neighborhood, as well as 19,000 square feet of ground-floor retail space. The two nine-story buildings will be nearly adjacent to one another, separated by an existing low-rise masonry building. Combined, the mixed-use edifices will span 230,000 square feet.
Of the 227 apartments, 134 will be housed within 751 N Hudson Avenue, which will also come with amenities such as a fitness center, a penthouse lounge and deck, a dog run, and a co-working area. Atop its podium will also be a pool deck with cabanas, grilling stations, and fire pits. The 93 remaining residences in the 411 W Chicago Avenue building will have their own unique amenities, such as a second-level sundeck with an outdoor kitchen and fire pits.
The architecture firm NORR has designed metal and masonry facades for both buildings, lined with dark metal accents and private recessed balconies for select units. The 126-foot-tall development will be a major addition to the Chicago Avenue corridor. It will be one of the tallest buildings in the area, and it will add much-needed density to the area. This will help to spur further growth and redevelopment in the area.
Across both buildings will be 108 parking spaces, six of which will be set aside as surface parking for the retail component. The closest bus stop is for Route 66 at the intersection of Chicago and Hudson. Slightly further east is the Route 37 bus stop, which has service to Orleans and Chicago. For those looking to take the L train, Brown and Purple Line service is available at Chicago station via a five-minute walk east.
The project is expected to cost $100 million in total, with construction costing $80 million. LG Development's construction arm, LG Construction, will serve as the general contractor on the project. A completion is currently anticipated for the third quarter of 2023.
Read more on Chicago YIMBY
Chicago Build is the leading construction show for Chicago and the Midwest region. Gain access to 9 specialized summits, 250+ exhibitors, 300+ speakers and connect with 20,000+ registered visitors.