19 Aug 2022
Trammell Crow Buys Land for 1112 W. Carroll and 315 N. May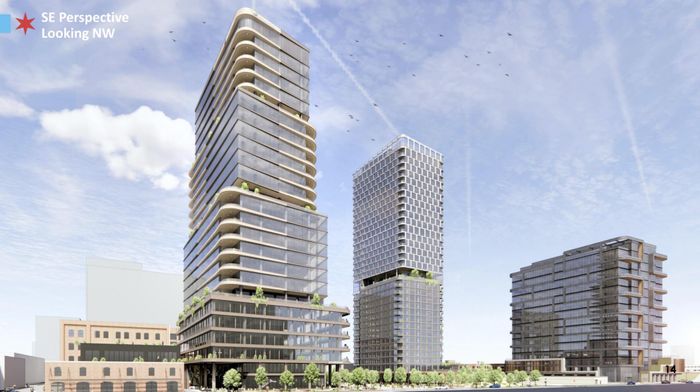 Texas-based developer Trammell Crow has purchased the land for their approved project at 1112 W. Carroll and 315 N. May. Recently announced by The Real Deal, public records show the developer paid $77 million for the two sites in the booming Fulton Market neighborhood. Framing W. Carroll Ave, the two sites stretch the entire block from N. Aberdeen St to N. May St.
With approval for the project secured back in December, the development will see the construction of two towers designed by ESG Architects. The site at 315 N. May will be replaced with a 410-foot-tall, 26-story mixed-use tower, yielding 650,000 square feet of office space, 15,000 square feet of retail space, and 180 parking spaces.
After review by the Committee on Design, the parking spaces for the office tower were moved underground. With a more slender building footprint as a result, an additional triangle of green space was added along N. Aberdeen St for more light to reach the main park in the northern parcel.
Across the street, 1112 W. Carroll will be home to a new 33-story apartment tower, delivering 377 units, ground floor commercial space, and 90 parking spaces. A 35,000-square-foot park, designed by Confluence, will wrap around the base of the residential tower. The planned park will include a central "fountain plaza," a dog run, a multi-use lawn, and a "hill grove" with a platform overlooking the Metra tracks to the north. Though privately funded and maintained, the space will be open to the public and could be programmed for various events.
The developer originally hoped to break ground on both buildings around the middle of 2022. With the land now under their ownership, the team can continue pushing towards a start for construction, despite missing the original mid-2022 goal. Once work starts it is anticipated to last approximately 24 months.
As reported by The Real Deal, Trammell Crow also spent $23.4 million to acquire the adjacent property at 1150 W. Carroll. Bought from a venture of Shapack Partners, plans for the site from Trammell Crow are currently unavailable. The 43,000-square-foot lot is currently home to a 37,000-square-foot industrial building.
Read more on URBANIZE Chicago
Attend Chicago Build Expo, the largest construction, design and real estate show for the Midwest. Gain access to 12 conference tracks and AIA CES approved workshops, check out 250+ exhibitors, learn from 350+ high-profile speakers and connect with 20,000+ built environment professionals.