12 May 2019
'The Paragon' brings sculptural design, high-tech apartments to the South Loop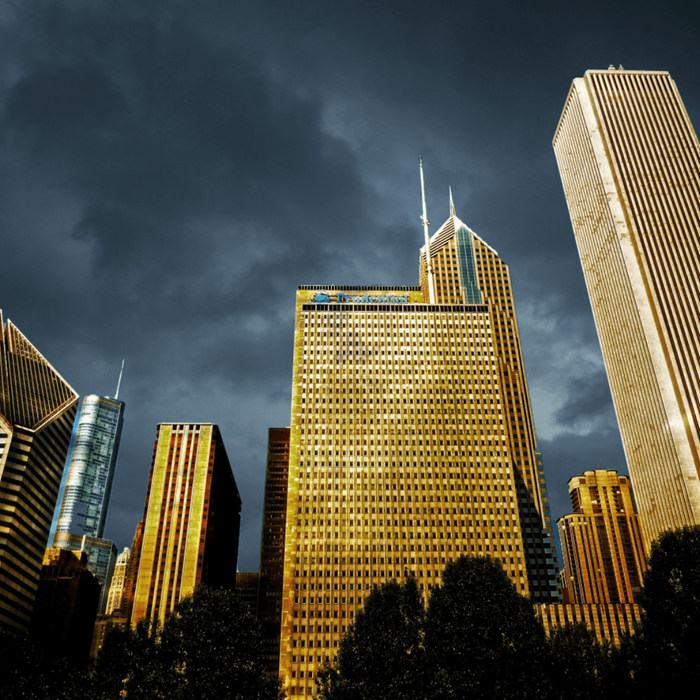 After two years of construction, The Paragon—the South Loop's newest and arguably most technologically advanced apartment tower—is officially open for business. The 47-story, 500-unit building from Murphy Development and CIM Group replaces a parking lot along Michigan Avenue between 13th and 14th streets.
The glassy high-rise features a chiseled design comprising two boxes of different heights with angular cut-outs along its corners. "It makes the building feel like a jewel," explained John Lahey of Chicago-based architecture firm Solomon Cordwell Buenz.
"From some angles, the building undulates or the faceted corners pick up light in an interesting way," added Lahey. "It wasn't that expensive to do, but it would have been easy to engineer out. The developers kept the feature because they felt it was an important part of the building's personality."

Beyond giving the tower an attractive exterior, the beveled corners give character to the apartments themselves. About six units per floor feature angled glass elements. The floor-to-ceiling glazing offers views of the Chicago Skyline, Grant Park, and Soldier Field. A pair of outdoor amenity decks above the building's retail and garage base—plus a fitness center and terrace at its crown—mean tenants can enjoy every view regardless of their unit.
The Paragon's clever architecture is joined by equally intelligent smart home technology in all of its apartments. While plenty of new rental buildings include "smart" features like wireless temperature controls or door locks, the Paragon offers its residents a fully integrated experience with pre-wired lights, outlets, thermostats, and motion sensors.
The system—by Portland-based IOTAS (Internet of Things as a Service)—goes beyond basic on/off functionality. It instead allows tenants to save apartment-wide settings, or "scenes," and assigned names like "out for the day, welcome home, movie time, or vacation mode." Residents can supply their own digital assistant from Apple, Google, or Amazon to manage these settings or download an app from IOTAS.
"When we give someone a smart home, they are always finding new ways to use the technology," Sce Pike, CEO and president of IOTAS, told Curbed Chicago. "We see people using the application to check on pet-sitters or change lights to red to signal 'I love you' or blue to say 'I miss you.' You can reach someone if they're not picking up the phone by remotely flickering the lights or maybe switching off the XBox. It's fascinating."
The technology a way to save energy and money for the tenants as well as the building, which adopted the system in its common areas. For instance, The Paragon's managers can remotely prep an apartment for a tour and then turn everything off afterward. They also have the option of randomizing lights in vacant units to appear occupied as the building fills up.
Pike sees the technology only becoming more popular in the future as barriers between the digital and physical breaks down. "We envision a situation where your settings and preferences can follow you to your next home, or even to a hotel or Airbnb."
Residential move-ins at The Paragon are already underway. Monthly rents in the South Michigan Avenue tower start around $2,000 for a studio, $2,200 for a one-bedroom, $4,100 for a two-bedroom, and $7,200 for a three-bedroom. The project joins an increasingly crowded South Loop apartment market thanks to nearby high-rise developments like Essex on the Park and NEMA Chicago.
Source: Curbed Chicago
---
Chicago Build is the leading construction show for Chicago and the Midwest. Gain access to 12 specialized summits, 200+ exhibitors, 200+ speakers and connect with 10,000+ registered visitors.