15 Sep 2022
Sterling Bay Breaks Ground on 225 N. Elizabeth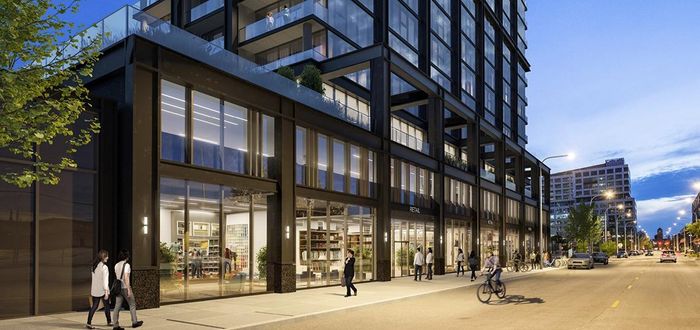 Sterling Bay has broken ground on their latest Fulton Market project at 225 N. Elizabeth. Teaming up again with Ascentris, a Denver-based real estate private equity firm, the team will redevelop a currently vacant site at the corner of N. Elizabeth St and W. Fulton St.
With a design from Hartshorne Plunkard Architecture, the design consists of a 28-story tower that will rise 314 feet tall. The mixed-use building will meet the ground with retail space fronting W Fulton St. and wrapping around the corner to N Elizabeth St. With 350 units in the tower above, residents will enter through a parklet and residential entry along N Elizabeth St. The development will include 95 car parking spaces and 199 bike parking spaces.
The glass and metal tower will rise as a rectangular volume over the metal-framed podium spreading out over the site. Residents will have access to balconies that will rise along the eastern and western ends of the tower volume. Tenant amenities will be mainly located on the third floor, with indoor amenities and an exterior deck with a pool and dog run. More residential amenities will be located on the top floor.
The unit mix for the project will include 66 studios, 46 convertibles, 140 one-beds, 92 two-beds, and 6 three-bedroom apartments. To meet the 20% ARO requirement, 70 units will be designated as affordable up to 60% AMI. The affordable unit mix will include 13 studios, 9 convertibles, 28 one-beds, 19 two-beds, and 1 three-bedroom unit.
With McHugh Construction serving as the general contractor, the $110 million project has now received its foundation permit, paving the way to begin vertical caissons on the site.
Read more on URBANIZE Chicago
Attend Chicago Build Expo, the largest construction, design and real estate show for the Midwest. Gain access to 12 conference tracks and AIA CES approved workshops, check out 250+ exhibitors, learn from 350+ high-profile speakers and connect with 20,000+ built environment professionals.