13 Apr 2023
Skender starts construction for Greater Chicago Food Depository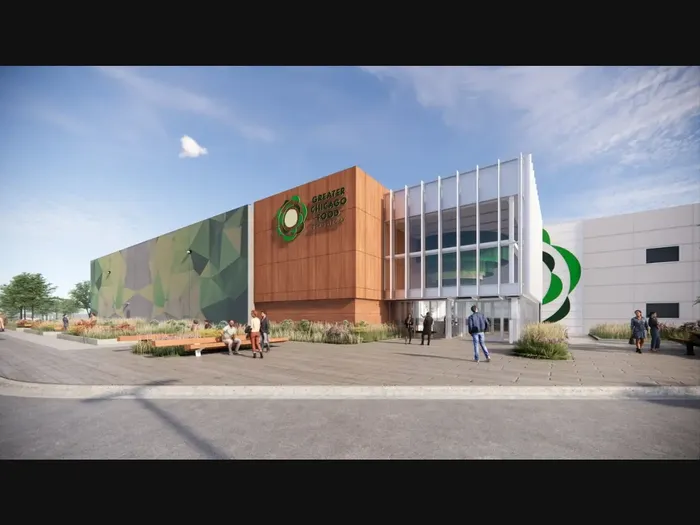 CHICAGO, Ill. – November 17, 2022 – Skender has started construction on a 37,000-square-foot expansion of the Greater Chicago Food Depository, a food bank on Chicago's Southwest side that provides food for families and individuals at risk of food insecurity while advancing a mission to end hunger. The new structure at 4100 W Ann Lurie Place will add onto the food bank's existing two-story warehouse and office.
To aid in the Food Depository's goal to produce and distribute 2.5 million prepared meals annually to community members, Phase II of the Nourish Project will expand the light industrial facility to include a commercial kitchen for meal preparation and packaging, and a demonstration kitchen for nutrition education. The project also includes 11.5 acres of site work with parking for volunteers, guests and fleet, as well as space for growing fresh produce in the future.
"The Greater Chicago Food Depository is excited to move forward with Skender on this transformational project," said Kate Maehr, Executive Director and CEO of the Food Depository. "This expansion of our facility will directly result in more healthy prepared meals for our neighbors at increased risk of hunger, including older adults, people with disabilities, individuals with medical conditions, and other households. We look forward to the day the first meals are produced in our new commercial kitchen and delivered to households across our community. This is a vital step in our mission to end hunger."
The Food Depository completed Phase I of the Nourish Project in 2019, which expanded cold storage, upgraded the existing warehouse, and created new and renovated spaces for their volunteer program. The first phase renovations have been essential throughout the ongoing COVID-19 pandemic as demand for food assistance soared to record levels.
As the need for prepared meals is projected to increase dramatically, Phase II will allow the Food Depository to reach target populations who have experienced unique barriers to food access during the pandemic, now and in the future. The new phase will also include a community partnership strategy that aims to increase the total number of healthy meals distributed by purchasing meals from local minority and women-owned businesses and community organizations.
---
Read more on PATCH