Shedd Aquarium Presents Renovation Plans to Committee on Design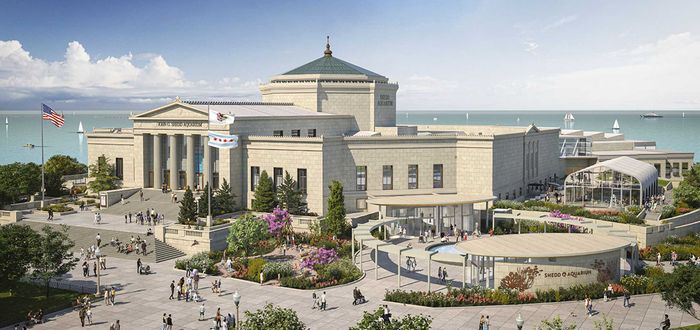 Shedd Aquarium has presented their renovation plans to the Committee on Design. Located at 1200 S. DuSable Lake Shore Dr, the project will improve the facilities of the museum on the Museum Campus. Looking towards its 100th anniversary, the Shedd Aquarium plans the work as part of its Centennial Commitment, a $500 million plan to improve physical facilities and programmatic content.
With a design from Valerio Dewalt Train Associates and Site Design Group, the plan calls for the enhancement of the existing accessible entrance, the rebuilding of the north terrace, and the enclosure of the lakeside terrace.
A circular trellis will define an arrival location at the accessible entry that will celebrate the commissioned fountain, Man with Fish, while anchoring an entry and ticket pavilion that floats effortlessly above the plaza. The permeable structure will allow an increased number of visitors to enter through this entry, as 1 out of 5 user groups have someone who needs mobility assistance. A separate ticketing pavilion is located across from the entry pavilion, connected by the round canopy, creating a pair of anchors for the space.
Designed to be compliant with the Secretary of Interior's Standards for Rehabilitation to maintain the opportunity to secure state funding in the future, a new circulation route will be carved into the structure allowing for a seamless path from the accessible entry to Kovler Hall, the beginning point of the visitor experience.
Find out more: Urbanize Chicago.
Chicago Build is the leading construction show for Chicago and the Midwest region. Gain access to 9 specialized summits, 250+ exhibitors, 300+ speakers and connect with 15,000+ registered visitors.