18 Jul 2022
Second Site Clearing Begins for North Union Megadevelopment in Near North Side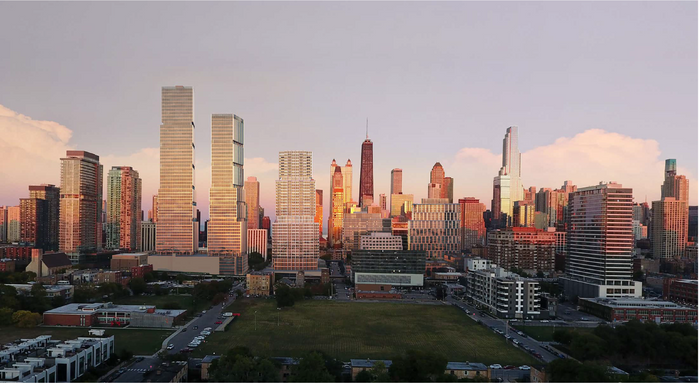 Demolition and site clearing work is now underway for a 25-story mixed-use tower at 868 N Wells Street, the second building in the broader "North Union" scheme set to transform the north end of Chicago's skyline. The tower will yield 428 rental units atop 12,000 square feet of retail. Currently underway the sibling tower at 920 N Wells Street is making significant construction progress, with much of the first floor's superstructure now taking shape. This slightly shorter building will stand 18 stories and offer 10,000 square feet of retail and 228 apartments.
Both 868 N Wells Street and 920 N Wells Street mark the first of four phases in the North Union masterplan. JDL Development is leading the project with founder James Letchinger serving as CEO. The firm has completed a handful of notable downtown projects in recent years, including No. 9 Walton Street in the Gold Coast, 640 N Wells in River North, and most recently the massive One Chicago development in River North. Residing on land formerly owned by the Moody Bible Institute, North Union will be the JDL's most ambitious project, set to provide six million square feet of new construction, including 2,656 rental units and 100,000 square feet of public space. In addition to the current construction along Wells Street, future phases will include even taller towers up to 700 feet as well as intermixed mid- and low-rise edifices. A large parking garage will be located beneath much of the site.
Hartshorne Plunkard Architecture is behind the design of both the North Union masterplan and its individual buildings, 868 N Wells included. The tower will offer a contemporary glassy aesthetic with metal panels and framing, along with recessed balconies along its corners. Much like its 920 N Wells neighbor, the building will have an angled footprint facing Wells Street to create a more dynamic street while contrasting with the surrounding rectangular grid. The massing will also come with a north-facing setback on its 20th floor to provide private terrace space and a slight overall tapering effect. The 27th floor will include an inset amenity penthouse and a large rooftop deck.
The location of these two initial sites and the broader North Union masterplan are closely connected to Chicago's public transit network. Multiple Divvy bike stations are available within a two-minute walk, while bus service for Routes 22, 37, 66, 70, and 156 are all within a 10-minute walk. Brown and Purple Line service for the CTA is also available at Chicago station via a six-minute walk south from 868 N Wells' southwest corner. Those looking for Red Line service will find the second Chicago station via an 11-minute walk southeast.
With Power Construction as general contractor, this initial phase of North Union is expected to wrap up next year. The entire $1.3 billion undertaking has also accelerated its timeline from a 2029 completion to a 2026 completion.
Read more on Chicago YIMBY
Chicago Build is the leading construction show for Chicago and the Midwest region. Gain access to 9 specialized summits, 250+ exhibitors, 300+ speakers and connect with 20,000+ registered visitors.