06 Sep 2022
Revised Plan Proposed for Hollander Building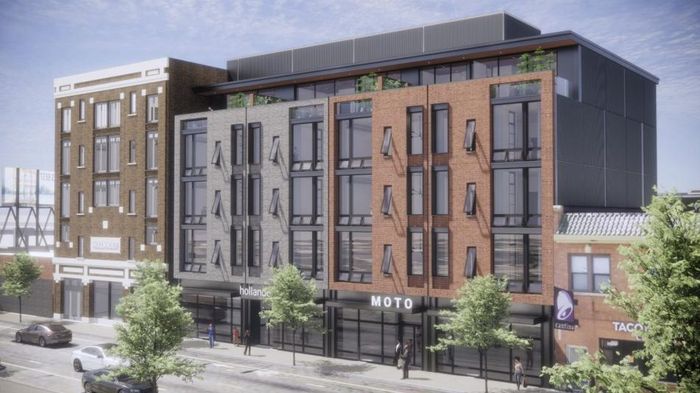 Developer GW Properties has come back to the community to propose a new plan for the rehabilitation of the Hollander Building. Located at 2422 N. Milwaukee, the building stands just north of the intersection of N. Milwaukee Ave and W. Fullerton Ave. The rear of the Hollander Building turns to front W. Fullerton Ave, with the rest of the site backing up against the public alley and Blue Line CTA L tracks.
Designed by NORR, the updated plan would rehabilitate the Hollander Building and build a new five-story addition that will replace an existing parking lot and one-story structure. Rising 74 feet, the project would add 4,500 square feet of retail to the base of the Hollander Building and there will be 5,000 square feet of retail in the new addition. According to the developers, Guidepost Montessori and a salon have already signed onto the project.
On the upper floors, the project will include 57 apartments. Expected to be rented at market-rate, the units will be split into 15 studios, 33 one-beds, and 9 two-beds. The developers have committed to providing 15% of the units as affordable. Residential tenants will have access to bike storage as well as 15 parking spaces. The top floor will have private terraces for two units as well as a shared terrace and interior flex space for residents.
The site has gone through multiple zoning changes since its first version, with an approved plan from 2019 calling for a five-story addition to convert the building into offices, retail, and commercial space. In 2021, the developers came back to remove the addition, use the existing one-story building as an extension of the ground floor commercial space, and put 9 apartments and office space into the Hollander Building.
According to Block Club Chicago, the developers scrapped the plan due to skyrocketing construction costs and supply shortages making the development no longer leasable.
The plan is awaiting input from the community and a decision from local alderman Daniel La Spata. Once support is secured, the plan will need approval for a zoning change.
Read more on URBANIZE Chicago
Attend Chicago Build Expo, the largest construction, design and real estate show for the Midwest. Gain access to 12 conference tracks and AIA CES approved workshops, check out 250+ exhibitors, learn from 350+ high-profile speakers and connect with 20,000+ built environment professionals.