09 Aug 2022
Renderings Emerge for 1323 S. Wood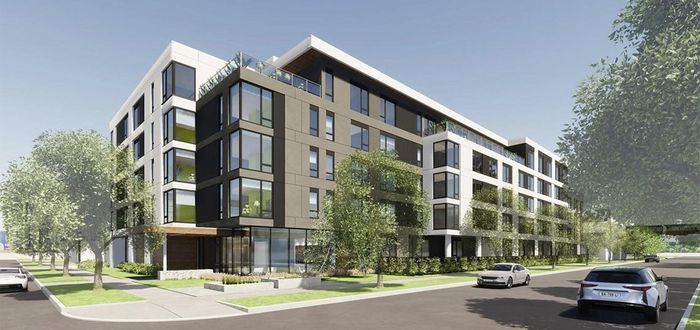 Renderings have emerged for The Nightingale @ IMD, a new residential development planned for a site within the Illinois Medical District. Originally revealed by Urbanize back in December 2021, the project will occupy a rectangular parcel addressed at 1323 S. Wood, sited at the intersection of S. Wood St and W. Hastings Street.
With the developer identified as Melrose Ascension Capital, the project will develop a five-story multifamily residential apartment building. Planned to encompass 105,400 square feet of space, the building will hold 125 dwelling units serviced by 45 car parking spaces in a surface lot at the rear of the site. 63 bike parking spaces will be provided in an interior bike storage room. The unit mix will consist of 31 studios, 6 convertibles, 7 junior one-beds, and 81 one-bedroom apartments. Rents will start at $1,599 per month.
The 68-foot-tall building will hold amenity space on the ground floor and on the fifth floor. A fitness center will be located on the ground floor as well as a dog spa with access to an exterior dog run on the eastern end of the property. An indoor amenity space will look out onto an outdoor terrace on the fifth floor.
Designed by Pappageorge Haymes Partners, the edifice will be clad in a variety of fiber cement panels, creating a varied pattern on the facade. Aluminum and glass railings will be used at the outdoor terrace.
To meet sustainability requirements, the development will exceed energy code by 5%, exceed stormwater ordinance by 25%, plant trees, install at least 50% green roof, reduce indoor water usage by 40%, sponsor bikeshare, provide bike parking, provide readiness for EV charging stations, install a CTA digital display, engage in workforce development, and implement bird protection.
With site plan approval under the larger Illinois Medical District's Planned Development, the project has been cleared to move forward. A timeline for the construction has not been announced and permits have not been filed.
Read more on URBANIZE Chicago
Chicago Build is the leading construction show for Chicago and the Midwest region. Gain access to 9 specialized summits, 250+ exhibitors, 300+ speakers and connect with 20,000+ registered visitors.