11 Apr 2023
Pritzker announces $105 million for Southern Illinois University Edwardsville construction project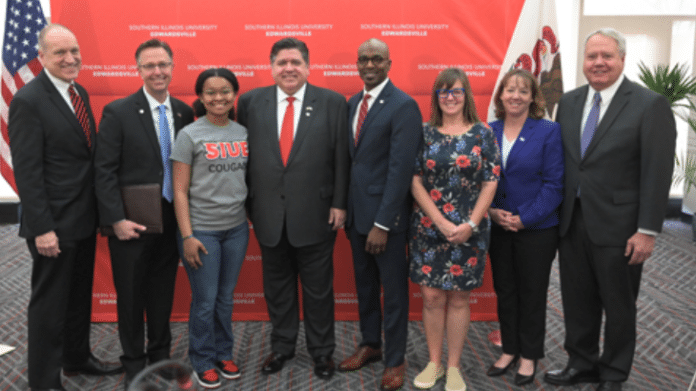 Chicago Construction News staff writer
More than $105 million was announced by Gov. J.B. Pritzker last week, for construction of a health sciences building and renovations to existing buildings at the Southern Illinois University Edwardsville (SIUE) campus. The funding is from the Rebuild Illinois capital plan, the largest capital plan in state history.
"The investment at Southern Illinois University Edwardsville is one of many examples of how Rebuild Illinois prioritizes higher education," Pritzker said. "Healthcare continues to be the fastest growing industry globally, so it is critical that Illinois students have the training, resources, and facilities required to be the best in their fields."
The Illinois Capital Development Board (CDB) will oversee the project in accordance with the protocol for state-appropriated construction projects. The design build firm is Clayco + PoettkerJV with Lamar Johnson Collaborative, Inc. and Christner, Inc. serving as the lead architects on the project. Hellmuth Obata & Kassabaum, Inc. (HOK) has been selected as the bridging firm.
"The Illinois Capital Development Board is thrilled to partner with SIUE on this significant infrastructure investment at their campus," said Capital Development Board Executive Director, Jim Underwood. "We are hopeful this project will ensure campus buildings are compatible with the growing needs of SIUE students and faculty."
Work will include renovating and connecting two existing buildings on University Park Drive. The scope of work also includes constructing a new 110,000 square foot building to accommodate the School of Pharmacy and School of Nursing. New classrooms, research laboratories, study areas, a nursing simulation laboratory, and administrative offices will be added. Site circulation improvements and resurfacing of two existing parking lots will also be completed.
The new health sciences complex will be designed and constructed to meet LEED Silver Certification. Activity will begin on site in spring 2023, with construction slated to begin in the fall. Project completion is anticipated for summer 2025.
Read more at Chicago Construction News