27 Aug 2022
Podium Reaches Full Height at 160 N Morgan Street in Fulton Market District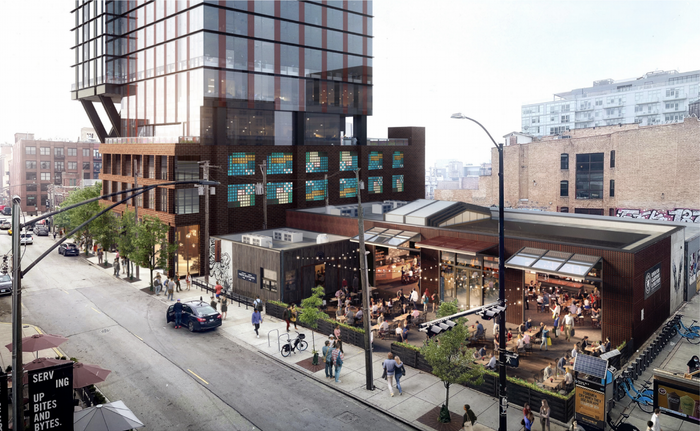 Podium construction is now giving way to tower construction for 160 N Morgan Street, a 30-story mixed-use tower in Fulton Market District. The high rise, planned by Sterling Bay and Ascentris, will be one of the tallest buildings west of the Kennedy Expressway. Programming will include 282 rental apartments and two levels of retail within the first and second floors.
The residences will include a mix of studio, one-bedroom, and two-bedroom apartments, while 28 of the 282 will be affordable. Additionally, the developers will also contribute $5.26 million to help subsidize a mixed-income residential development in South Loop, and provide $2 million to the neighborhood opportunity fund.
The amenities for the building will include an outdoor deck on the fifth floor, a fitness center and lounge inside, and a rooftop pool deck. There will also be 89 on-site parking spaces in a podium garage, as well as a bike room with 153 slots.
The design by bKL Architecture features a rectangular massing that varies in height, culminating in a distinct offset crown. The south portion of the tower will hang over the podium, lined on its underside with a mosaic pattern and supported by two Y-shaped columns. Meanwhile, the facade is made up of glass and dark metal glazing, with a red brick podium.
The project sits close to several transit options, including multiple Divvy bike stations and bus transit for Routes 8 and 20, both within a 10-minute walk. The Morgan station for the Green and Pink Lines is also within a one-minute walk.
With a construction cost of $82 million, Walsh Construction is serving as general contractor. A completion date is currently targeted for late next year.
Read more on Chicago YIMBY
Attend Chicago Build Expo, the largest construction, design and real estate show for the Midwest. Gain access to 12 conference tracks and AIA CES approved workshops, check out 250+ exhibitors, learn from 350+ high-profile speakers and connect with 20,000+ built environment professionals.