27 Jul 2022
Plan Commission Approves Thrive Englewood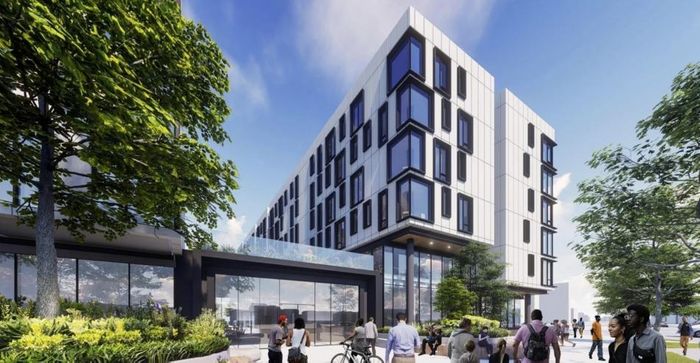 The Chicago Plan Commission has approved Thrive Englewood, a mixed-use affordable development at 914 W. 63rd. Currently vacant, the irregularly shaped site is located at the corner of W. 63rd St and W. 63rd Pkwy, just west of the Englewood Square Mall. Planned by DL3 Realty, the project is also south of the upcoming Englewood Connect Invest South/West project.
With a design from Perkins & Will, the project is broken down into two phases. Phase 1 will consist of a six-story mixed-use building. Rising 74 feet, the structure will deliver 61 residential units with 2,400 square feet of ground floor retail. Two live/work units will round out the W. 63rd St frontage, with the residential lobby located along W. 63rd Pkwy. The affordable unit mix for this phase will include 11 units at 50% AMI, 40 at 60% AMI, and 10 at 100% AMI.
Connected to Phase 1 via a shared lobby, Phase 2 will front W. 63rd Pkwy. Topping out at 65 feet, the five-story building will hold 47 affordable units as well as three live/work units, a fitness center, community room, and bike room all on the ground floor.
The design of Phase 1 emphasizes the street wall while creating an articulated facade along the ground floor. Along Phase 2, the building sets back from the street to create a landscaped plaza in front of the live/work units. Both buildings will be clad in a mix of fiber cement and metal panels interrupted by a floor-to-ceiling window wall system.
The site plan includes a surface parking lot behind the buildings for 58 cars, while a small set of 7 parking spaces will support the retail accessed just off of the street along the east end of the retail space. A landscaped space including a play structure and plaza will be located behind the Phase 2 building.
The two-phased project, planned to run $31 million for the first phase and $25 million for the second phase will now continue through the approval process. The developers will need sign offs from the Committee on Zoning and City Council to approve the Planned Development, with additional approvals needed to acquire the city-owned land.
Read more on URBANIZE Chicago
Chicago Build is the leading construction show for Chicago and the Midwest region. Gain access to 9 specialized summits, 250+ exhibitors, 300+ speakers and connect with 20,000+ registered visitors.