23 Oct 2022
Plan Commission Approves Mixed-Use Development at 1047 N Rush Street in Near North Side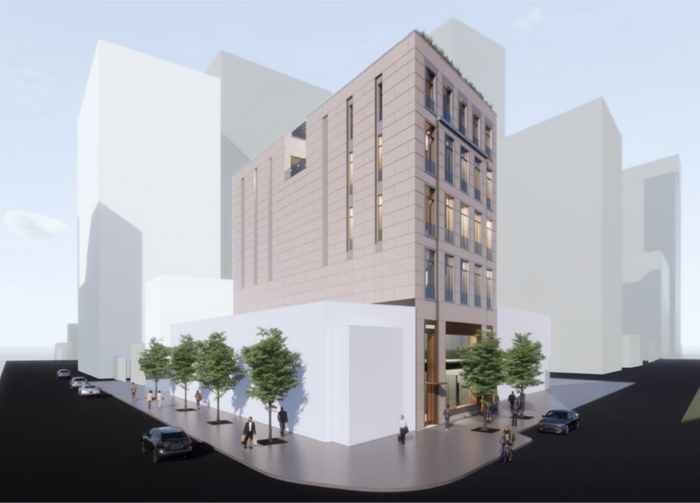 The Chicago Plan Commission has approved a mixed-use development at 1047 N Rush Street in the Near North Side. Located just south of the intersection with E Cedar Street, the new project will add some density to the quickly changing block that will see nearly every building replaced or remodeled in the coming years including the home of Carmine's next door. The team at LFI Development is behind the proposal along with Booth Hansen serving as the architects.
The new construct will replace two-existing one and two-story partially vacant commercial buildings on a 5,716 square-foot lot. In its place will rise a six-story 100-foot tall structure with retail and residential uses, on the ground floor will be a large retail space that spans into the second floor with a tall front window and Juliet balconies. Two vehicle parking spaces and one loading space will also be accessible from the back alley that connect to the passenger elevators for the residents.
The third to fifth floors will hold a large restaurant with an internal stair connecting the two, the fourth floor will have half of the kitchen space and feature a 27-foot wide wedge shaped terrace within the exterior facade for a unified exterior look, the fifth floor will contain a similar layout. Above that on the sixth floor will be a single private residence with three-bedrooms, three-terraces, a partially open floor concept in the common areas, and a large family room with two rooftop terraces on the seventh.
Clad in stone, marble, and bronze framed windows, future visitors will be able to get there using CTA bus routes 22, 36, 66, 70, 151 and 156 as well as the CTA Red Line Chicago station all within a nine-minute walk. The project received zoning and city council approval earlier last year but had a few minor changes since then, at the moment no construction timeline has been announced, but the current structures on the site are ready for demolition.
Read more on Chicago YIMBY
Attend Chicago Build Expo, the largest construction, design and real estate show for the Midwest. Gain access to 12 conference tracks and AIA CES approved workshops, check out 250+ exhibitors, learn from 350+ high-profile speakers and connect with 20,000+ built environment professionals.