21 Sep 2022
Plan Commission Approves Mixed-Use Development at 1043 N Rush Street in Near North Side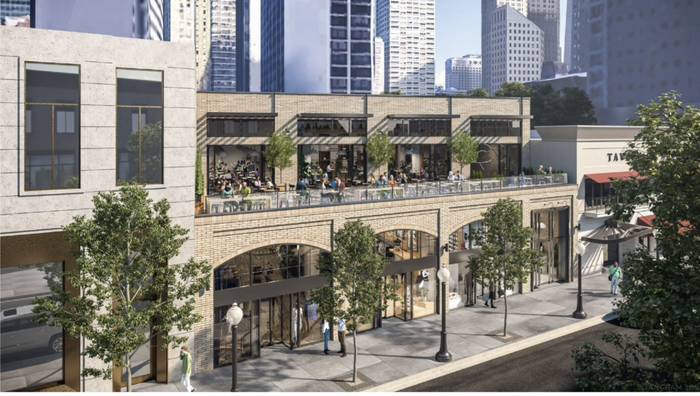 The Chicago Plan Commission has approved a new mixed-use building at 1043 N Rush Street in the Near North Side. Located just north of the intersection with E Oak Street, across the street from the wedge-shaped Mariano pocket park, the project replaces a similar existing structure holding the famed Carmine's restaurant. Attempting to sell the property since 2015, developer L3 Properties recently bought it with plans to increase the overall active square footage on the site.
Currently occupying all of the roughly 10,000 square feet of space within the existing two-story building is Chicago stalwart Carmine's. Open since the early 1990s in the Italianate structure, its string-light lit sidewalk cafe has long transported visitors at the heart of what's often referred to as the Viagra Triangle. However its closure won't be forever as it plans to reopen with an even larger floor space in the new project, which will also rise two stories at roughly 37 feet tall and contain 21,370 square feet of leasable commercial space.
On the ground floor the sidewalk cafe will make way for new retail spaces as luxury brands continue to open in the area as well as relocate from Michigan Avenue, most recently Cartier. Three 2,200-square-foot spaces will have individual entrances though they can also be combined for a single tenant with a nearly 7,000-square-foot footprint. A remaining slim space will be the new Carmine's entrance leading up to a large second floor dining room with a massive terrace overlooking the street, giving the restaurant roughly 15,000 square feet.
Hoping to reference the previous building and fit in with the surrounding context, the new structure will be clad in a beige brick with dark bronze accents and mullions along the arched front windows. Since it still requires a zoning approval no formal groundbreaking date was given, however the restaurant is expected to close early 2023 with demolition starting soon after with its new digs expected to open in the summer of 2024.
Read more Chicago YIMBY
Attend Chicago Build Expo, the largest construction, design and real estate show for the Midwest. Gain access to 12 conference tracks and AIA CES approved workshops, check out 250+ exhibitors, learn from 350+ high-profile speakers and connect with 20,000+ built environment professionals.