24 Sep 2022
Plan Commission Approves Medical Development at 4800 S Cottage Grove Avenue in Grand Boulevard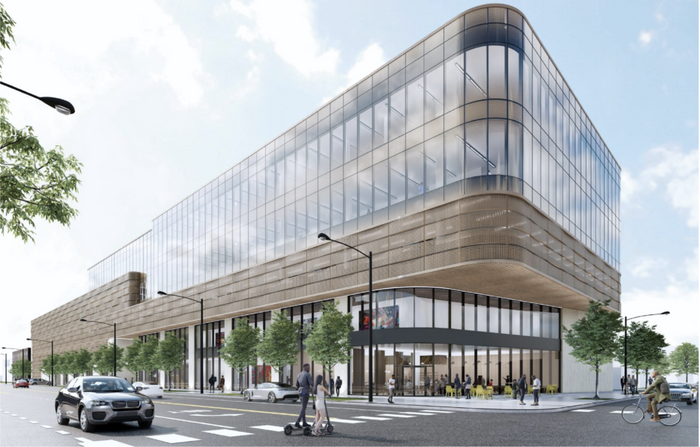 The Chicago Plan Commission has approved a new mixed-use medical facility at 4800 S Cottage Grove Avenue in Grand Boulevard. Located on the corner with E 48th Street, the new project replaces a large vacant lot surrounded by typical two-flats and some commercial low rises. The proposal was brought forward by Northwestern Medicine who is expanding with multiple south side locations and has tapped local design firms Lamar Johnson Collaborative and Brook Architecture on the sleek modern health center.
The facility is set to serve over 50,000 annual patients from Bronzeville and other communities nearby which have long suffered from disinvestment and dwindling medical centers causing widespread health issues. One of the latest casualties was Mercy Hospital which closed in 2021 after 150 years of service, only recently re-opening to emergency services and care under a new operator after over a year. Nearby the massive Michael Reese Hospital shuttered and was demolished in 2009 after over 100 years of service as well, which is now being redeveloped with new health facilities at its center.
Rising five stories tall and 102 feet in height, the nearly 200,000-square-foot structure will provide 119,000 square feet of usable space with the rest going towards parking. On the corner of the first floor will be a large retail space and immediate care center along with a visitors lobby and entrance to the naturally ventilated parking garage. The garage will hold 237 vehicle parking spaces partially spread across the first, second, and fourth floor, with the entire third floor also being parking. These will be clad in an interlocking perforated metal panel forming a custom woven pattern allowing for air to move across the space.
An imaging area will round out the first floor with the second floor containing 4,250 square feet for pediatrics and an over 7,500-square-foot community center. Skipping the parking third floor, the fourth will have a 16,150 square feet primary care and OB/GYN space with a 3,400-square-foot well lab. Finally capping off the structure will be a smaller fifth floor holding a 13,500-square-foot cancer center, and 15,000 square feet of specialty care. The bronze curtain wall clad building also features a green roof and concealed mechanical equipment with plenty of cast stone on the back-of-house spaces.
The approval will allow the site to be rezoned from a C2-3 Motor Vehicle Related Commercial District to a Residential-Business Planned Development which will allow it to circumnavigate some further approvals prior to a groundbreaking. A formal construction timeline has not been established, but we can expect it to commence next summer creating nearly 1,000 temporary jobs with a 2025 completion date and 100 permanent healthcare related jobs.
Read more on Chicago YIMBY
Attend Chicago Build Expo, the largest construction, design and real estate show for the Midwest. Gain access to 12 conference tracks and AIA CES approved workshops, check out 250+ exhibitors, learn from 350+ high-profile speakers and connect with 20,000+ built environment professionals.