24 Jul 2022
Plan Commission Approves 640 W. Irving Park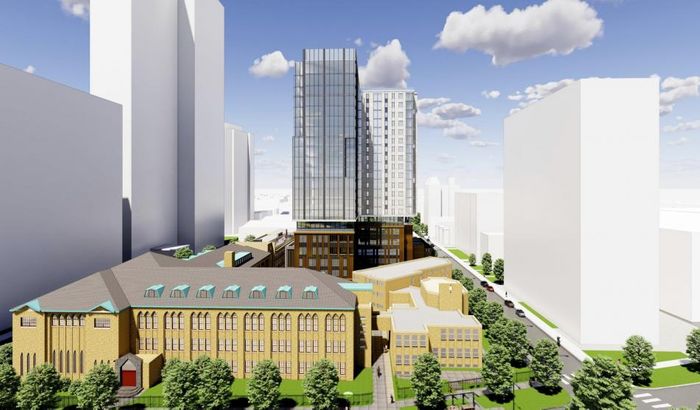 The Chicago Plan Commission has approved the mixed-use development at 640 W. Irving Park. Conceived by KGiles LLC and CA Ventures, the development is located along N Marine Drive, between W Irving Park Road and W Bittersweet Place.
With Level Architecture in charge of the conversion of the Immaculata School, the three attached buildings will be converted to hold 245 apartments, made up of mostly studios and one-beds with five two-bedroom configurations. 20% of the overall unit count, or 49 units, will be designated as affordable.
Through the conversion, the main lobby stair will remain, but must be enclosed inside a vestibule to meet current fire codes. A rooftop deck will be added onto the 1956 school addition with a large setback from W. Irving Park Rd to reduce its visibility. A new elevator and stair penthouse will poke up above the roof to serve the new roof deck. Windows on the school buildings will be rehabilitated or replaced as needed with masonry tuckpointing also planned.
With a design from Perkins Eastman the new 22-story senior living tower, located on the parking lot behind the school, will contain 108 independent living units, 60 assisted living units, and 32 memory care units. 20% of the unit count, or 20 units, will be designated as affordable.
The building is designed in an L-shape based on the site and to preserve views. Rising 250 feet, the tower will be clad in a mix of glass and textured metal paneling with punched window openings. The podium will rise the first five floors encased in a bronze-colored metal panel with brick veneer on the ground floor. A forecourt off W. Bittersweet Pl will be the main access for vehicles with a parking garage for 98 cars included.
The $150 million project has recently garnered approvals from 46th Ward Alderman Cappelman as well as the Permit Review Committee for the work to the landmarked buildings. With approval from the Chicago Plan Commission secured, the next and final steps will be approvals from the Committee on Zoning and City Council.
Read more on URBANIZE Chicago
Chicago Build is the leading construction show for Chicago and the Midwest region. Gain access to 9 specialized summits, 250+ exhibitors, 300+ speakers and connect with 20,000+ registered visitors.