28 Oct 2021
Plan Commission Approves 2 New Developments, 3 Towers In West Loop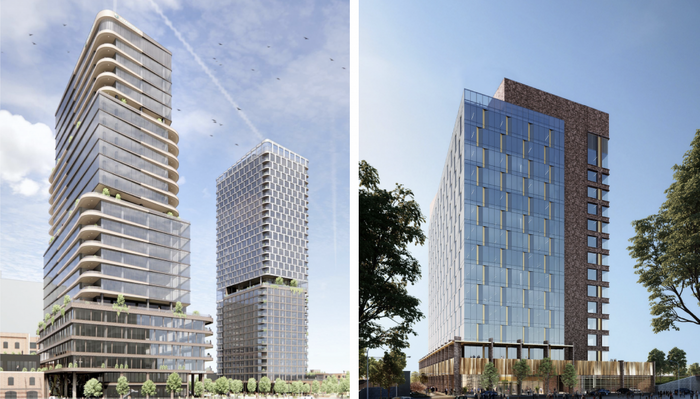 The Chicago Plan Commission has approved two projects bringing a total of three new towers to the ever-growing West Loop. Both projects have recently gone through design updates after receiving feedback from the Committee on Design and will now be able to move forward to the Chicago City Council for final approval. The projects consist of the two-tower project at 315 N May Street and 1112 W Carroll Avenue and the new life-science building at 400 N Elizabeth Street.
Both of these towers are being developed by Dallas-based Trammell Crow who has developed projects like the Embarcadero Center in San Francisco. Designed by ESG Architects, the 410-foot-tall tower will twist and set back as it rises from the ground to allow sunlight to reach the street-level, allowing for a more livable experience in the shared new park with the development's second tower. Minor updates to the design include the addition of a floor bringing it up to 26 stories but no height increase, and a small reduction in parking to 180 spaces in an underground garage.
Overall the tower will still offer 650,000 square feet of office space and 15,000 square feet of commercial space. Other revealed details include the setbacks with amenity terraces at levels 7, 14, and 21 as well as the introduction of new construction materials for the building podium. The re-design now introduces brick, increased setbacks, and further articulated windows at the podium to better fit in with the area's contextual design.
Learn more at Chicago Yimby.
Chicago Build is the leading construction show for Chicago and the Midwest region. Gain access to 9 specialized summits, 200+ exhibitors, 200+ speakers and connect with 15,000+ registered visitors.