24 Aug 2022
Permits Issued for Sarah's on Lakeside Residential Development at 4737 N Sheridan Road in Uptown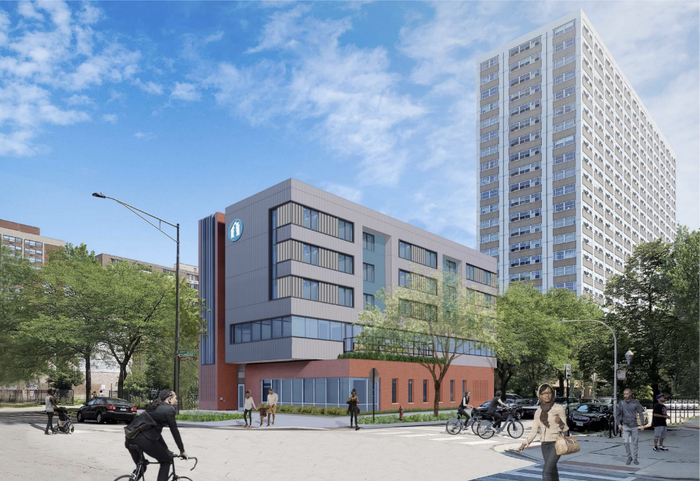 Construction permits were officially issued on Monday for 'Sarah's on Lakeside,' the upcoming residential housing development for homeless women located at 4737 N Sheridan Road in Uptown. As YIMBY previously reported, this development comes from non-profit organization Sarah's Circle and Perkins + Will who will act as the architect for the new project. This new build will be replacing an empty lot on the corner of Sheridan Road and W Lakeside Place.
The building will rise a total of five floors and will provide 28 single room occupancy (SRO) units as well as on-site office space for Sarah's Circle. The facility will house a large meeting room, a demo kitchen, a computer lab, as well as laundry rooms for residents. The offices will be on the second floor and will include a conference room with an adjourning outdoor terrace. Plans indicate the presence of six parking spaces alongside the alley.
The backing for the $16 million project includes $4 million in multi-family program funds from the Chicago Department of Housing, as well as roughly $3.85 million in IHDA Supporting Housing Program Funds. An additional $1.35 million was secured through IAHTC proceeds, some $3.1 million come by way of ARO fee-in-lieu funds from the 4600 N Marine Drive development, $2.1 million in IHDA grant money, and $2 million in Sarah's Circle equity.
Powers & Sons Construction will be acting as the general contractor on the build. Sarah's Circle has announced an estimated completion date for sometime in summer 2023. Permits for construction have been filed and are awaiting approval.
Read more on Chicago YIMBY
Attend Chicago Build Expo, the largest construction, design and real estate show for the Midwest. Gain access to 12 conference tracks and AIA CES approved workshops, check out 250+ exhibitors, learn from 350+ high-profile speakers and connect with 20,000+ built environment professionals.