14 Sep 2022
Permits Issued for Mass Timber Structure at 232 W Chestnut Street Within North Union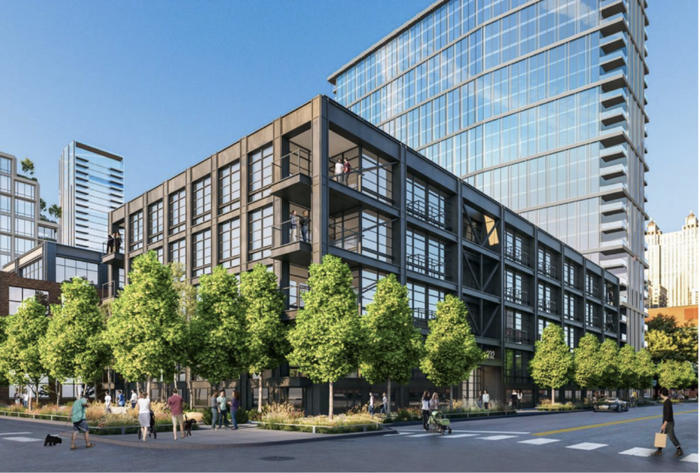 New permits have been issued for the third structure set to rise within the North Union mega development at 232 W Chestnut Street in the Near North Side. Located towards the western end of the larger project on the intersection with N Franklin Street, the new building replaces two existing two-story structures currently being demolished. Developer JDL, most recently known for One Chicago, is showing no signs of stopping on the construction of the Hartshorne Plunkard Architecture designed complex.
While by no means the largest building in Chicago, it will be the first modern example of mass-timber construction in the city. After the Great Chicago Fire in 1871 codes became more stringent and wood in many ways was banned, however in recent years as the city has begun switching to the International Building Code (IBC) rules have relaxed. This will allow the local design scene to join the likes of Minneapolis, Milwaukee, Atlanta, and many more across the globe in incorporating the eco-friendly technique and material.
Utilizing pre-fabricated beams and columns made up of glue laminated sheets of wood, the structure will require less concrete for its foundations which received their permit approval this week. Rising five stories and 70 feet tall, the new building will hold 35 residential units whose layouts have yet to be revealed but will contain large inset and cantilever balconies based on the most recent renderings. The ground floor will hold a small lobby and large bike parking room, while the exterior is clad in charcoal extruded frames with an exaggerated cross bracing structure.
Residents with cars will be able to utilize parking in the surrounding towers, but those foregoing four wheels will be able to access the site on CTA bus routes 37, 66, 70 and 156 as well as the CTA Brown Line Chicago Stop all via a five-minute walk or less with the Red Line within a 10-minute walk as well. While no official construction timeline has been revealed for the project, JDL is quickly moving through North Union and we can expect a potential completion in 2024, further details on the surrounding green space are also yet to be revealed.
Read more on Chicago YIMBY
Attend Chicago Build Expo, the largest construction, design and real estate show for the Midwest. Gain access to 12 conference tracks and AIA CES approved workshops, check out 250+ exhibitors, learn from 350+ high-profile speakers and connect with 20,000+ built environment professionals.