04 Sep 2022
Permit Issued for Residential Development at 537 W. Drummond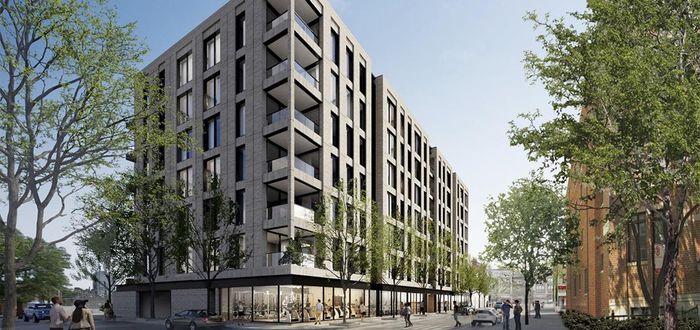 A full building permit has been issued for 537 W. Drummond. Planned by Drummond Development as part of the Covent Hotel redevelopment, the new building will replace the parking lot behind the Covent Hotel along W. Drummond Pl.
Designed by Brininstool + Lynch, the seven-story residential building will stand 80 feet tall. Planned as a residential-only building, it will deliver 84 new market-rate units, split into 12 studios, 30 one-beds, 24 one-bed plus dens, and 18 two-beds.
Encased in a brick cladding with an aluminum window system, the facade will be interrupted with balconies inset at the corners along W. Drummond Pl and hang off the rear elevation. On the ground floor, the residential lobby and amenity space will front W. Drummond Place with 84 bike parking spaces included. 52 car parking spaces will be included on the site, with most inside an interior parking garage on the ground floor.
As a collaboration with The NHP Foundation, the overall development will also include the conversion of the Covent Hotel. The conversion will see its 64 SRO units renovated into 30 small affordable studio apartments. Designed by Weese Langley Weese Architects, the historic building will front N. Clark St with 4,700 square feet of retail space and a new residential lobby. The building will have no parking spaces. With permits already issued for the conversion, The NHP Foundation is finalizing legal documentation with HUD before starting work imminently here in September.
With Construction Realty Company serving as general contractor for the residential midrise at 537 W. Drummond, the building is expected to begin deep foundations this fall and continue work for 18 months.
Read more on URBANIZE Chicago
Attend Chicago Build Expo, the largest construction, design and real estate show for the Midwest. Gain access to 12 conference tracks and AIA CES approved workshops, check out 250+ exhibitors, learn from 350+ high-profile speakers and connect with 20,000+ built environment professionals.