29 Sep 2021
Obama Presidential Center Officially Breaks Ground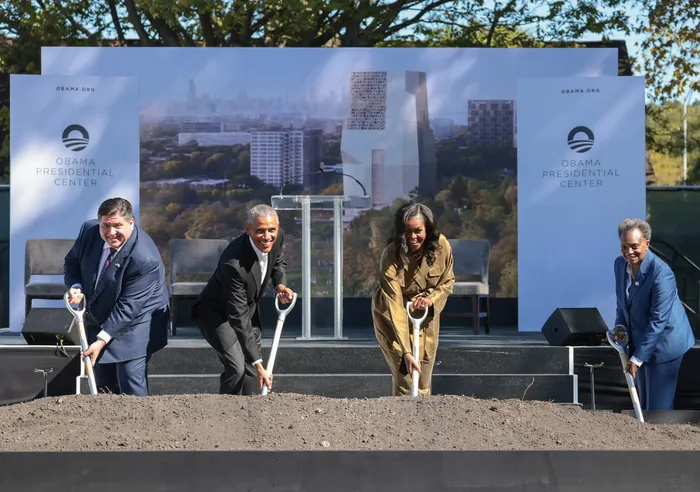 After years of planning the Obama Presidential Center is officially under construction on Chicago's South Side. Former First Lady Michelle Obama and former President Barack Obama joined Chicago Mayor Lori Lightfoot and Illinois Gov. J.B. Pritzker at the official groundbreaking ceremony on Tuesday. The estimated $730 million project is expected to open in 2025.
On the location, Obama remarked: "We choose this location for a few pretty good reasons. It's close to where Michelle grew up, where I started my political career. It is surrounded by vibrant neighborhoods and a community where we believe we can help make a difference."
Designed by New York-based firm Tod Williams Billie Tsien Architects, the facility will be home to "concerts, cultural events, lectures, summits, topical dialogs, and conversations," Obama said. Plans call for a 235-foot-tall museum tower, an athletic facility, an underground parking garage, a community garden, a test kitchen, restored wetlands, and a sledding hill.
"We want the Obama Presidential Center to change Chicago for the better. This center will support thousands of jobs during and after construction, many of them right here on the South Side. It will spark economic growth in this community by bringing as many as 750,000 visitors to this area every single year. Visitors who will eat, shop, explore and spend money, strengthening the South Side and making it a more attractive place for businesses to grow and to hire."
Find out more on Urbanize Chicago
Chicago Build is the leading construction show for Chicago and the Midwest region. Gain access to 9 specialized summits, 200+ exhibitors, 200+ speakers and connect with 15,000+ registered visitors.