12 Apr 2022
Newcastle Presents Updated Design for 210 N. Morgan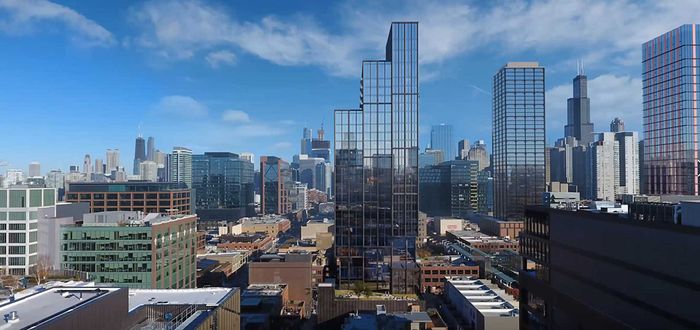 Developer Newcastle Limited recently presented an updated design for 210 N. Morgan. Located midblock between W. Lake St and W. Fulton Market, the site is currently occupied by a single-story masonry building and surface parking lot. Currently the street frontage is covered in electric poles, totaling 11 poles on the entire site. The new development will entirely place the electrical lines underground.
With a design from Hartshorne Plunkard Architecture, the project will deliver a 33-story mixed-use tower. Expected to host 204 residential units, the building will meet the ground floor with approximately 3,600 square feet of retail space and the residential lobby. The development will offer 50 car parking spaces and 125 bike parking spaces. The unit mix consists of approximately 90% studios and one-beds and 10% two-beds.
At the ground floor, the building will setback to create a publicly accessible open space that will offer fixed seating with planters. A light canopy overhead will enliven the outdoor space. The surrounding podium is designed with a column and spandrel configuration that references the surrounding Fulton Market context. Creating a contemporary masonry design, the facade will use a curved masonry vertical pier and angled spandrel panels. The design will create depth and detail at the pedestrian level.
Find out more on Urbanize Chicago.
Chicago Build is the leading construction show for Chicago and the Midwest region. Gain access to 9 specialized summits, 250+ exhibitors, 300+ speakers and connect with 15,000+ registered visitors.