07 Jul 2022
New Residential Development Planned for 566 W Van Buren Street in West Loop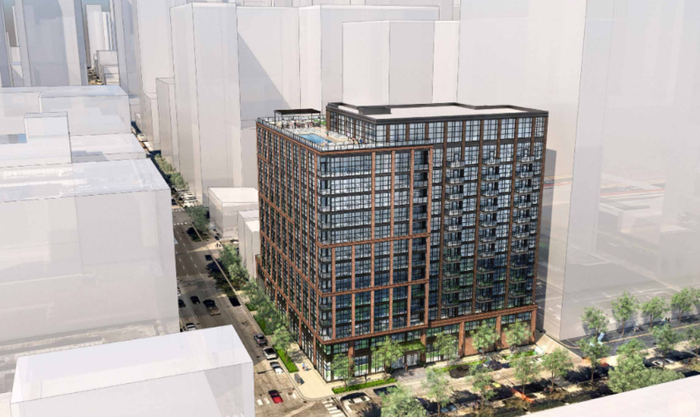 Another residential build is coming to the West Loop. Riverside Investment & Development is partnering with Blue Star Properties to co-develop a 14-story building with plans for 198 units to be located at 566 W Van Buren Street. The project is planned for the northeast intersection of Jefferson and Van Buren. The lot is currently occupied by a parking lot and two retail buildings.
As reported by Crain's Chicago Business, the project is being designed by Antunovich Associates. This will be a mixed-use development and will include 2,500 square feet of ground-floor retail space, along with 76 accessory parking spaces, and 99 bicycle parking spaces. There will reportedly also be a dog run and a rooftop pool deck.
Due to the zoning at the property site, the project is able to move ahead without first securing approval. This residential build joins a growing list of developments. In fact, Crain's reports that all told developers are "planning more than 9,000 apartments in the West Loop, or more than the total for all other downtown neighborhoods combined."
Riverside Investment & Development is known for glassy office towers. In fact, the developer recently completed the BMO Tower, a 50-story building at 320 S Canal Street, one block west from this upcoming venture. John O'Donnell, CEO of Riverside believes that residential buildings are the future. O'Donnell has his sights set on Chicago and he is pivoting to residential builds to meet demands. He told Crain's that he believes it will be difficult to build office buildings for the next few years—"certainly not the kind that we would normally want to do"—given the leasing landscape.
With growing rent costs on the horizon and motivated developers, it seems that there are no signs that developments such as this upcoming project will slow down.
Read more on Chicago YIMBY
Chicago Build is the leading construction show for Chicago and the Midwest region. Gain access to 9 specialized summits, 250+ exhibitors, 300+ speakers and connect with 20,000+ registered visitors.