22 Nov 2021
New Renderings And Details Revealed For City Casino Bids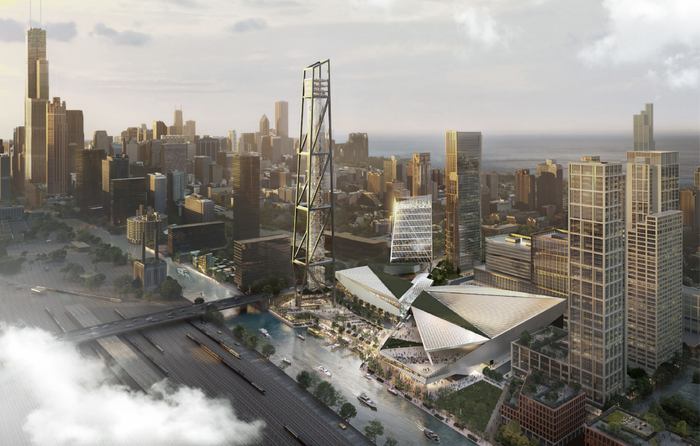 New renderings and details have been revealed for the multiple casino bids in the city spread across various sites in the city. Elaborating on the initial information, we now have further numbers from all five and their temporary casino locations as part of a multi-year process to bring a gambling facility within city borders. The city has requested from developers a place-making gaming destination with lodging, dining, and entertainment that contributes to the urban fabric and focuses on partnerships with local minority organizations.
Ballys Tribune Publishing Center Bid
The first of the five bids comes from Rhode Island-based Ballys who promises to make their Chicago project their flagship property. The $1.8 billion proposal will be split into two phases and utilize their global customer database of over 20 million people to promote the new casino. The first phase would come with a $1 billion price tag and be expanded on, pending the company achieving a sustainable 20 percent return on initial investment, with a further $600 million expansion. If awarded this location, Ballys is offering the city an upfront incentive payment of $25 million.
A temporary gaming facility would be built at a nearby building before work begins on the permanent complex, which sits on a 30-acre parcel which Ballys currently controls via an option agreement with sellers. The first phase will bring 2,700 slot machines, 95 table games, a 100-suite hotel, outdoor music venue, and dining options curated by One Off Hospitality. Phase two would bring 700 slot machines along with a 400-room hotel tower with rooftop pool, 3,000-seat indoor entertainment venue, 20,000-square-foot exhibition center with Chicago sports museum, and extended amenities and dining. A further 600-slot-machine option remains with potential for placement at both airports.
Find out more on Chicago Yimby.
Chicago Build is the leading construction show for Chicago and the Midwest region. Gain access to 9 specialized summits, 200+ exhibitors, 200+ speakers and connect with 15,000+ registered visitors.