17 Sep 2023
New Community Center Receives Construction Permit In West Woodlawn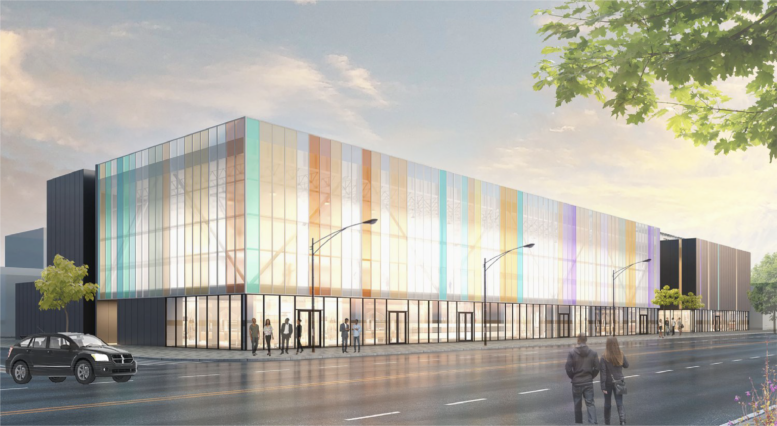 A construction permit has been issued for the new upcoming community center 6623 S Dr Martin Luther King Jr Drive in West Woodlawn. Located just north of the intersection with E Marquette Road, the development has been in the works for multiple years and will be replacing a vacant lot currently occupied by a pop-up plaza. Developers Project H.O.O.D. and Trammell Crow Company are working with local architecture firm BNMO Design on the upcoming structure.
Rising three-stories tall, the new structure dubbed Project H.O.O.D. (Helping Others Obtain Destiny) will focus on bringing job training, education, employment resources, fitness facilities, and more to the surrounding disinvested area. The ground floor will boast a large lounge, retail space, cafe space, a new bank branch, culinary school, small vocational school, and multi-purpose gym with a pool.
The second floor will be anchored by a large multi-height sports space with two full-size basketball courts with bleachers, thus will be joined by a music practice, and video production room. Anchoring the other side of the floor is a small performance center which will be supported by an art studio and dance studio. The third and final floor has a multi-use community room, additional fitness space, and connects to a rooftop communal garden.
Find out more at YIMBYnews