07 Oct 2021
Museum of Ice Cream headed to renovated retail space at Tribune Tower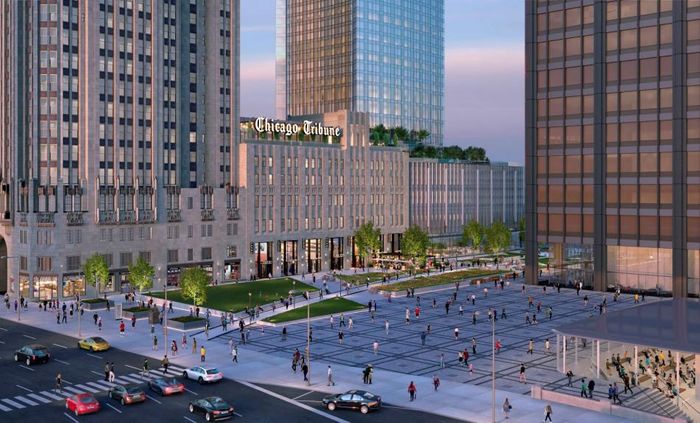 Developers CIM Group and Golub&Company have revealed the first tenant for the recently renovated Tribune Tower: Chicago's own Museum of Ice Cream! The development consists of luxury condos with a retail space on the ground floor which will house the museum.
The museum will occupy around 13,000 square feet of Tribune Tower's total 50,000 square feet of ground-floor retail space. CIM and Golub purchased the landmark tower in 2016 for $240 million. Above the retail space there are 162 luxury condos and residents are starting to move in. One unit reportedly sold for more than $8 million recently. In 2020, the team secured zoning approvals for a 1,422-foot skyscraper slated for the vacant parcel to the east, but has yet to break ground on the planned supertall tower.
The museum headed to 435 N. Michigan Avenue will be the museum's fourth permanent location when it opens in spring 2022 (joining New York, Austin, and Singapore). It will feature a "sprinkle pool," a minigolf course, and a cafe plus Chicago-specific touches, including a CTA-inspired train car called the "Sprink-L." The colorful space will open onto the adjacent Pioneer Court public plaza, which is undergoing a major overhaul of its own.
"The opportunity to open one of the most ambitious formats of Museum of Ice Cream at Tribune Tower on the Magnificent Mile is incredibly exciting," said Maryellis Bunn, co-founder and creative director at MOIC, in a statement. "The history of architecture, art, and revolutionary commerce in this district over the past 100 years makes this a perfect setting for the next iteration of Museum of Ice Cream."
The Museum of Ice Cream's long-term lease is good news for the greater Magnificent Mile, which has struggled to maintain its status as Chicago's premier shopping destination after facing rising vacancies related to COVID and last summer's looting. Experiential offerings such as Tribune Tower's Museum of Ice Cream and the soon-to-open Dr. Seuss Experience at Water Tower Place could be the key to easing vacancies, drumming up foot traffic, and restoring some of that lost luster.
Find out more on Urbanize Chicago.
Chicago Build is the leading construction show for Chicago and the Midwest region. Gain access to 9 specialized summits, 250+ exhibitors, 250+ speakers and connect with 15,000+ registered visitors.