15 Apr 2023
Mixed-Use Conversions May Be The Future Of Chicago's Suburban Office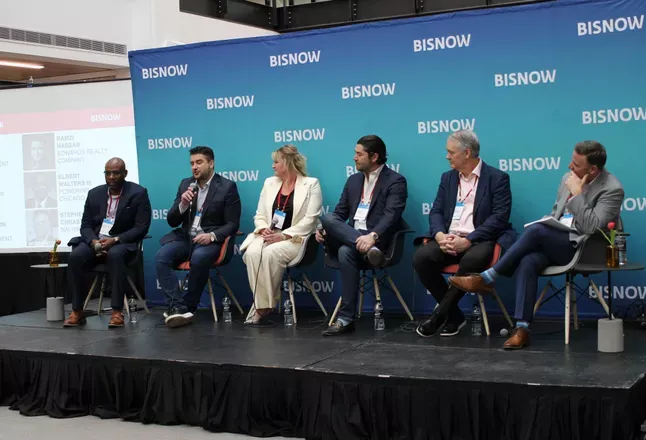 As the Chicago suburbs face record-high office vacancies, the future of suburban office is likely to hinge on the conversion of outdated buildings into modernized mixed-use spaces, CRE experts said during Bisnow's Future of the Chicago Suburbs event on March 21.
With suburban office vacancies averaging around 26% in Q4 — and as high as 33.2% in the northwest suburbs, according to NAI Hiffman — owners are facing the reality that many companies aren't returning to offices in sufficient numbers, leading them to consider different uses.
"A lot of communities haven't really embraced the need to reposition their offices to something else, so they're hanging on for that mythical office tenant that may be coming at some point in the future," Opus Development Senior Director of Development Paul Robertson said. "It's probably going to take them a couple of years to figure out that that's not going to happen. We need to do something else with it."
A new type of office space conversion is the "metroburb," a term used to describe Bell Works Chicagoland, which hosted the event, as a metropolitan destination in the suburbs that incorporates offices, residential, retail and dining into one community. Inspired by Somerset Development converted the 150-acre corporate campus for AT&T in Hoffman Estates into the self-contained Bell Works Chicagoland.
"We started developing the metroburb pre-pandemic because we saw a trend," Inspired by Somerset Development President Ralph Zucker said. "The pandemic accelerated the trend, and that trend is that people don't want to drive an hour into the city, give up two to two and a half hours of their life. It's about the level of retail. It's about the great bar. As those things are coming to the suburbs, there's less reason to schlep to the city."
Suburban office parks that are struggling with vacancies might need to rethink how their spaces are used and consider converting them into public-facing spaces like restaurants or bars, Zucker said.
"The challenging ones are the ones that are within an office park where there is only other similar uses, and I think they're going to have the hardest time," Wright Heerema principal Roger Heerema said. "I think ones that are maybe located on a fringe, I think maybe communities will be more open to the rezoning that's necessary to make them viable, but I think it's a tough question."
Office-to-residential conversions are another option developers are considering.
---
Read more on BISNOW