14 Oct 2021
Metra Unveils Preliminary Plans For West Loop Station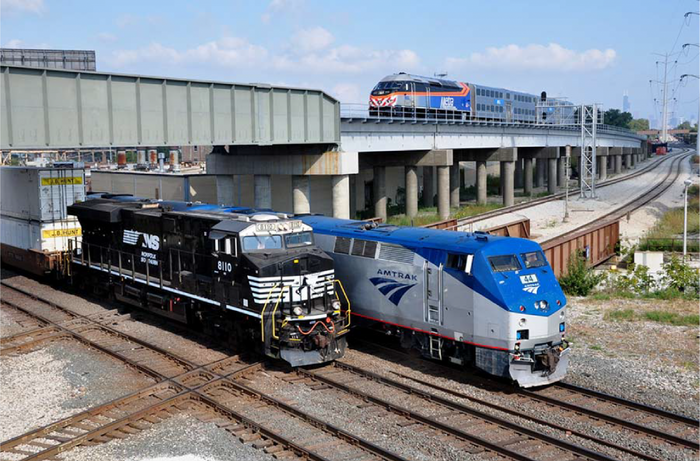 Metra has unveiled preliminary plans for a new station and rail flyover for the growing West Loop area. The neighborhood has seen some of the fastest growth of any in Chicago with population numbers nearly doubling in the last five years and the area median income increasing to nearly $120,000 per year, a sharp increase of over $40,000 since its meat-packing days. With a population of roughly 30,000 people and thousands more commuting in for work throughout the day, it has become the next target for Metra service which will force the system to address its largest bottleneck.
On the corner of W Kinzie Street and N Western Avenue is the A2 interlocking of four Metra lines. The A2 interlock is right off of both the Union Pacific California Avenue Yard and the Metra Western Avenue Yard, serving an extra three lines which must use the interlock for day-time maintenance and storage. All of this makes it the busiest interlock in the system with seven of the 11 Conceptual flyover schemes by Metra[/caption]
Metra has begun to value-engineer three different options for the flyover. The options mainly vary when it comes to where the flyover will occur, with options beginning the uphill around N Damen Avenue or near N Ashland Avenue. While no selection has been made, they are evaluating which will be the most cost effective and efficient for the over 200 Metra and 16 Amtrak trains that pass by a day. The flyover which will need to be built first will cost between $1-$1.2 billion and increase capacity to the system allowing for expansions on lines towards O'Hare.
Once the A2 flyover is completed, work on a new station could begin, this station is being developed through extensive research on the expanse of workers it could serve. Multiple opinions were considered including an at-grade station between N Racine Avenue and N May Street, however that option was deemed least desirable due to the downtime of the tracks while trains stop. In the end the most viable option was determined to be between N Ashland Avenue and N Ogden Avenue with the potential platform stretching nearly 900 feet and access facilities nearly 1,750 feet in length between the two roads.
Read more on Chicago Yimby.
Chicago Build is the leading construction show for Chicago and the Midwest region. Gain access to 9 specialized summits, 250+ exhibitors, 250+ speakers and connect with 15,000+ registered visitors.