13 Jun 2019
Meet the builders of Bronzeville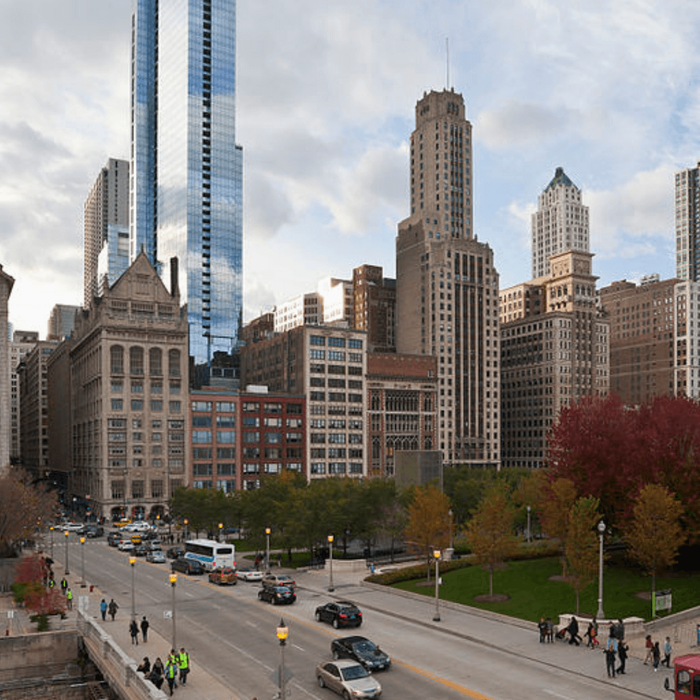 Once known as the Black Metropolis, the neighborhood has all the hallmarks of becoming the next Hyde Park.
"This is an up-and-coming neighborhood that's coming up fast," Sawsan Jawdat says as she shows a visitor around a house at 4607 S. Calumet Ave., one of four in a row she built on this block of Bronzeville.
It's priced at $529,000. Just five years ago she and her late husband, Jacob Dochee, were excited when the houses they built sold in the high $300,000s.
In the past 12 months, 34 houses in Bronzeville have sold for $500,000 or more, according to Midwest Real Estate Data. That's up slightly from 32 in the previous 12 months, which was a leap from 21 sales the year before that. Bronzeville, also known as the Black Metropolis from the decades when it functioned as an African American city within the city, has approximate boundaries of 31st and 51st streets on the north and south, and Cottage Grove Avenue and the Dan Ryan Expressway on the east and west.

"What I can give you for $500,000, you'd never be able to afford on the North Side," Jawdat says of the 3,000-square-foot home. In Wicker Park, comparably sized homes sold for an average of $899,000 in the past year, Crain's research in Midwest Real Estate Data's sale records indicates. At 4607 S. Calumet, Jawdat has built a five-bedroom house with an arched living room ceiling, magazine-quality kitchen and bathroom finishes, and a layout in the rear of the house that brings lots of daylight to the basement.
Jawdat's firm, Land Towers, has been building in Bronzeville since 2011, when the recovery from the housing bust was still not certain, and to date has sold at least 40.
One key to building in Bronzeville is that, at least for the foreseeable future, it can be done without displacing existing residents, thanks to the abundance of vacant lots created by decades of disinvestment and decline.
"I've displaced nobody in this community," says Tom Boney, principal of GraceK Contractors, a firm that has renovated or built a couple of dozen multi- and single-family residential units and in May unveiled plans for 30 more at 33rd Street and Giles Avenue. "We're bringing families into the neighborhood, not pushing them out."
Bringing in households that can buy a half-million-dollar house benefits those in the community who can't, says Ald. Pat Dowell, 3rd, who represents the neighborhood. "Thirty percent of our housing stock is in some form of subsidized housing," she says. "We need the influx of the market-rate housing stock to attract the amenities—the grocery stores and restaurants that serve everybody." In the past several years, Mariano's, Walmart, Culver's and Pete's Fresh Market have all opened Bronzeville locations or announced plans to.
Here are some of the local homebuilders working in Bronzeville.
Tom Boney
GraceK Contractors
Boney, who's lived in Bronzeville since 2007, did residential conversions of two Black Metropolis landmarks on Indiana Avenue: an 1880s building that housed the People's Movement Club founded by Oscar De Priest, the first black member of Congress to be elected in the 20th century; and another from the late 19th century that housed the crusading black newspaper the Chicago Defender for four decades. He's also rehabbed dilapidated rowhomes and six-flats.

"I've saved and renovated buildings that were falling down, brought them back to life and put people back into them," Boney says. As the economy and prices have risen, he has been building new construction, including six houses around 3500 S. Prairie Ave. priced in the mid-$600,000s. The houses have radiant-heated floors, spray-foam insulation, rooftop decks and real masonry on the exterior. "You can't build a cheap house here," Boney says. "You have to give them a reason to come down here."
McMahon and partner James Clarke developed two neighboring houses on St. Lawrence Avenue. One sold in January for $785,000, the highest price on record for a Bronzeville house, and the other went for $760,000 in May.
Now they're finishing a set of townhomes in a classic style with brick facades and tall parapets on 43rd Street a block from a CTA Green Line station. Each unit at the Bronzeville Metropolis rowhomes has four bedrooms, a two-car garage and a rooftop deck. They're priced from about $550,000 to just under $600,000.
"The neighborhood is changing around here big time," McMahon says. Buyers come, he says, because "the North Side is so expensive and so jampacked. Here they have proximity to the lake and downtown that they can't afford up there."
Patrick McMahon
McMahon Builders
"This area is so rich with architecture," Briseno says. It's not only the brick Queen Anne rowhouses and grandly carved greystones, but "Louis Sullivan, Frank Lloyd Wright—they all built here," he says, "and I want to keep that tradition of good architecture going."
On 50th Street, two blocks north of scenic Washington Park, 312Moxie built three houses with brick, glass and metal facades and light, contemporary interiors designed by Mark Filoramo of Filoramo Talsma Architecture in Bucktown. One sold for $580,000 in October and one for $585,000 in April.
Next up is Washington Row, a dozen townhouses by the same architect planned for a long-vacant site at 50th Place and King Drive. Briseno expects to start construction by the end of the summer and have units ready for occupancy in spring 2020. They'll be two sizes, 3,200 and 3,400 square feet, and priced in the $550,000s.
Derek Pulchny
DTA Group
"One day, Bronzeville is going to be exactly the same as Hyde Park," Pulchny says, referring to the only south lakefront neighborhood that didn't suffer the steep decline caused by decades of segregation. "Only it's closer to downtown Chicago."
He's been doing his part to get it there. Pulchny's first project in the neighborhood was rehabbing a foreclosed apartment building around 50th Street and Michigan Avenue in 2010 and 2011. More recently he's been selling a mix of single-family houses and condos that wrap the southwest corner of 41st Street and Vincennes Avenue.

The last of the houses, a five-bedroom with extensive millwork including a wood-beamed family room ceiling and a large master bath shower with a free-standing soaking tub, sold in November at almost $649,000. A three-bedroom condo in the development sold in early May for about $365,000.
Source: Crain's Chicago Business
---
Chicago Build is the leading construction show for Chicago and the Midwest. Gain access to 8 specialized summits, 200+ exhibitors, 200+ speakers and connect with 10,000+ registered visitors.
---